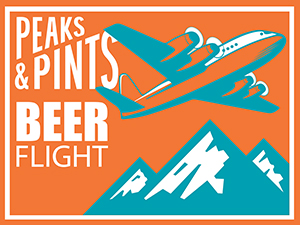 One of the best parts of South Sound summer is when locally picked raspberries start arriving at the farmers' markets. Pick up a pound and you'll ask yourself how the hell you spend 10 months of the year eating strangely flavorless raspberries trucked up from California. Enjoy the most wonderful time of the year for fruit lovers with Peaks and Pints Pilot Program: Raspberry Sour On the Fly. With the weather on high, "crushability" becomes an important factor when scanning Peaks and Pints' cooler for the perfect summertime brew. Consider raspberry to-go.
Peaks and Pints Pilot Program: Raspberry Sour On the Fly
Reuben's Razzmatazz Raspberry
3.2% ABV, 3 IBU
Berliner weisse is a rare thing: a sour beer, intensely flavored and the embodiment of refreshment. Its tartness is generally mild; its carbonation high; its soft, wheaty flavor refreshing. Reuben's Brews slightly tart and juicy Razzmatazz Raspberry is a Berliner weisse style ale fermented with raspberries that is crisp, refreshing, tart, and balanced.
Kulshan Raspberry Gose
4% ABV
Bright and highly sessionable, Kulshan Brewing's Raspberry Gose pays homage to Northwest Washington's unbeatable long summer days and the hardworking raspberry farmers of Whatcom County. Malted wheat, Pilsner malt` and German Perle hops and fresh raspberries are inoculated for a hazy pink-ish summer sipper. Expect mild sour aroma with berry notes, some body, light malt base and slight tartness.
7 Seas Red Raspberry Sour Ale
4.7% ABV, 8 IBU
7 Seas Brewing has recently released another gose-inspired ale in their rotating Sour Ale series. Red Raspberry Sour Ale is brewed with Pilsner malt, malted white wheat, Magnum and Golding hops, loads of red raspberry puree and a touch of San Juan Island sea salt. The flavor starts full of thick, ripe raspberry puree, with the hit of tart acid coming very early then trailing for the remainder of the flavor as the salt, carbonation and slight sweetness emerges with the lingering and pleasant lasting berry flavor.
Alesong Framboise
7.4% ABV
Framboise, French for raspberry, is a sour ale aged in French oak barrels with raspberries from Stahlbush Island Farms in Corvallis. This Alesong Brewing & Blending lambic begins its life as a blend of barrel-aged golden sour beer that is then conditioned on Oregon raspberries, imparting a beautiful magenta color. Jammy fruit aromas give way to a tart and refreshing beer that finishes crisp and dry.
---