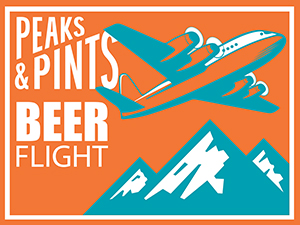 These days, beers with adjuncts such as spices, chocolate, and fruit have become as common as people bringing their piggy banks to the gas pumps. Gone are the times when a pie-inspired beer dropped jaws. And here, now, is a weird phase in the billion-armed evolution of craft beer, where ordering a stout made to taste like a candy bar or a fruited sour resembles a smoothie. We're seeing an influx of sours brewed with fruit in many ways, from puree to infusion, with the goal re-creating a nostalgic flavor in beer form. Today, Peaks & Pints presents a to-go flight of raspberry flavored beer with and without the craziness. Stop by our craft beer bar, bottle shop and restaurant and grab Peaks and Pints Pilot Program: Raspberry Beer Flight.
Peaks and Pints Pilot Program: Raspberry Beer Flight
450 North SLUSHY XXL Gummy Bear Kush
5.3% ABV
450 North Brewing brewed another batch of their crazy delicious smoothie sours and fruited Berliner weisses with each beer carrying a cannabis theme — and released on April 20 —including SLUSUHY XXL Gummy Bear Kush smoothie sour conditioned on raspberry, orange, pineapple, lemon, strawberry, and gummy bears.
Rogue Raspberry Tartlandia
4.9% ABV, 9 IBU
Rogue Ales & Spirits offers Raspberry Tartlandia, a sour ale brewed with raspberry, coriander, and hand-harvested salt from Newport's Yaquina Bay. This delicious tart and salty gose pays homage to their home in Newport, Oregon, with salt they hand harvested from the Yaquina Bay in their backyard and is inspired by a beer that they brewed with Chris Rogers to celebrate the Oregon Coast Community College's independent accreditation.
Claim 52 Stuffed: Raspberry Caramel Funnel Cake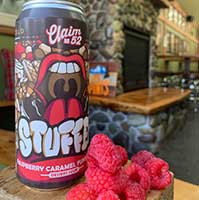 6.5% ABV
In 2012, Mercy McDonald, Jeannine Parisi and Trevor Ross opened Claim 52 Brewing in West Eugene. Claim 52 is named after a donation land claim number and refers to the original tract of land in Eugene settled by pioneer William Luckey in the late 1800s. Today, under the guidance of head brewer Bryce Fisher, they specialize in European-style, super-small batch beers made in the Northwest tradition, as well as exceptional hazy IPAs, and crazy dessert sours such as Stuffed: Raspberry Caramel Funnel Cake, a smoothie sour conditioned on — wait for it — raspberry, caramel, and funnel cakes.
Pike Pride (2022) Raspberry Wheat
As a highly visible brewery, Pike Brewing Company receives solicitations for donations and sponsorships daily. As a small, independently owned brewery they choose to make in-kind donations with a focus on human service and arts organizations instead of religious groups, athletic teams, or schools. Proceeds from their cause beers support important non-profits, such as Pike Pride benefiting The GSBA Scholarship Fund. This year's Pride beer is a raspberry wheat ale with a nose of raspberry, spice, and fruit esters. It's elegant and soft with a medium-light body. Pike Brewing donates $1 per pint sold at the pub to the GSBA Scholarship Fund.
Avery Barrel-Aged Raspberry Sour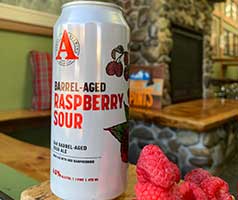 6.5% ABV
Avery Brewing took luscious ripe red raspberries and intertwined them with a bountiful amount of lactic acidity and delicate barrel nuances to cultivate this stunning sour ale. The nose is bursts with raspberry, sourness, and Brettanomyces character. This sour's flavor has a similarly prominent raspberry flavor but is squashed by a palate-wrenching sourness from start to finish. Pro tip: When this beer warms, the aroma takes on a boozy, wood-aged character and the finish becomes sharper.
LINK: Peaks & Pints cooler inventory
---