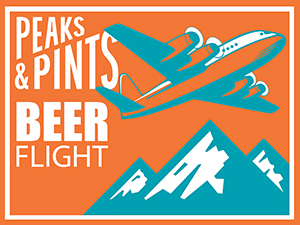 The Belgian quadrupel is the strongest in a series of Trappist styles, beginning with the single (better known as an abbey), the dubbel (double) and the tripel (triple). Quads are the strongest of the Belgian beers, often over 10 percent ABV. The monks seem to have stopped at four. They probably passed out. Quad is a dark beer that ranges from black to deep red or garnet, with a rich bold maltiness that combines with yeasty hints of raisin, dates, figs, grapes, and plums. The quad is not hoppy. It's known for alcoholic warmth and a complex sweetness, with wine and liquor-like characteristics. Today, Peaks & Pints presents a quad of to-go flight of quads — a flight we call Peaks and Pints Pilot Program: Quad Beer Flight.
Peaks and Pints Pilot Program: Quad Beer Flight
Brouwerij St. Bernard St. Bernardus Abt 12
10.5% ABV
Brouwerij St. Bernard St. Bernardus Abt 12 is a classic Belgian dark quadrupel brewed since 1946, on the basis of the original recipe compiled by the Westvleteren monks. The Abt, or Abbot, another name for quadruple, is the highest-ranking monk in the abbey; so perhaps it's no surprise that the brewery sees the Abt 12 as the highest-ranking amongst abbey beers. It hits the nose with banana, tropical fruit, raisins, spices, and rum. The flavors come through as intensely fruity, with notes of banana, pineapple, as well as spicy clove, añejo rum and anise. Throughout the sip, spicy pepper, and black licorice counter the sweetness before a flash of bitterness segues to the beer's enduring dry finish.
Unibroue La Terrible
10.5%
La Terrible is a well-balanced Belgian-style quad and is part of a collection of exotic and refined Unibroue beers brewed using 100 percent natural raw materials. It's a process more common in wine than beer one that imparts a yeasty taste, which in this case comes across like warm, gooey bread. Topped by a sumptuous head of foam, La Terrible possesses a fruity aroma enriched with notes of roasted malt and Madeira, plus a subtle roasted malt finish. Its long-lasting flavor is both elegant and full bodied.
Brouwerij De Halve Maan Straffe Hendrik
11% ABV
Produced by the oldest brewery in Bruges, Belgium, Brouwerij De Halve Maan's Straffe Hendrik is a top fermented and bottle conditioned quad that made its debut in 1981 to commemorate the inauguration of a statue of St. Arnold, the patron saint of brewing, in Bruges. The name is not only a reference to the "strong" (straf) beer, but also pays homage to the generations of Maes scions, all called Henri — Hendrik — who oversaw the brewery. Expect toasty malt, licorice, allspice, and pepper notes. Warning: It hides the alcohol well.
Nøgne Ø Skyscraper
14% ABV
Nøgne Ø's Skyscraper is a mighty Belgian quadruple that has matured for 20 months on American Zinfandel barrels. The barrels help to give a slightly spicy and fruity touch of cranberries, blackberries, and licorice.
LINK: Peaks & Pints cooler inventory
---