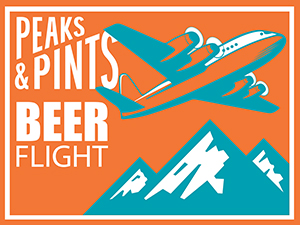 Did you it's National Pecan Day? Yup, National Pecan Day is celebrated annually April 14. Nuts are known to be an appetite-curbing, healthy snack, but why do we have a national holiday devoted to a single nut? Well, the pecan is the only naturally occurring nut produced in the US. It was a staple in the diet of Native Americans as early as the 1500s and is currently expected to remain in the top three most-consumed nuts in America along with peanuts and almonds. A perfect instance of something everyone considers a nut, but pecans are actually seeds of a drupe fruit from hickory trees. Prevalent throughout the American South, pecans are the state nuts of both Alabama and Texas (not to mention pecan pie is Oklahoma's "state meal"). They're also delicious in craft beer, as you will discover with our to-go beer flight Peaks and Pints Pilot Program: Pecans On The Fly. Cheers!
Peaks and Pints Pilot Program: Pecans On The Fly
The Bruery Meemaw's Famous Sticky Bun Stout
9.2% ABV, can
A heavenly aroma from Meemaw's kitchen fills the house, and your nose guides you to a pan of piping hot, golden brown sticky buns, oozing sugary cinnamon deliciousness topped with roasty pecans. The Bruery's imperial stout serves up a delectable tribute to these famous treats, brewed with grandma-approved helpings of maple syrup, cinnamon, and pecans.
Omnipollo Noa Bbl Pecan Mud Cake
12% ABV, bottle

As a child Omnipollo's head brewer wanted to be a pastry chef. He found his inspiration for Noa Pecan Mud Cake in the celebrated American dessert. Thick, rich and excessively decadent, this imperial aims to bring back childhood memories. Noa Pecan Mud Cake is the amalgamation of a rich, fudgy brownie, toasted pecans and s'mores. After it has been barrel-aged in freshly emptied bourbon barrels, this imperial stout hits the nose with chocolate cake. The thick pour tastes like chocolate, nuts, caramel, some bitterness, but heavily sweet with some vanilla from the barrels.
Evil Twin Even More Pecan Pie Jesus
12% ABV, 75 IBU, can

Jeppe Jarnit-Bjergsø, the founder and man behind Evil Twin Brewing, was a physics and English teacher in his native Denmark before starting Copenhagen's Ølbutikken, a highly regarded beer store. He's also an evil twin himself. His brother, Mikkel Borg Bergsø, brews under the Mikkeller label. Jarnit-Bjergsø, however, has done his best to outshine the good twin. He founded Evil Twin in 2010 as a nomadic brewery. In 2012, Jeppe Jarnit-Bjergsø gave up his nomadic brewing days and opened Evil Twin in Brooklyn. Expect a thick fudge-like body, pitch black color, amazingly overwhelming aromas of chocolate, coffee, dark
---