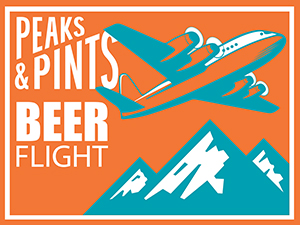 The nights are long. And cold. Wet. Since Peaks & Pints is in the midst of our annual Dark Side of Thanksgiving salute to dark beers we decided to offer four beers as dark as the 5 p.m. sky for today's to-go flight, Peaks and Pints Pilot Program: New Stouts On The Fly. The original "stout porters" of 18th century London were brewed for their heartiness in the face of harsh storage conditions; with any luck these four new stouts will keep you just as well-preserved through the night. Cheers!
Peaks and Pints Pilot Program: New Stouts On The Fly
Rogue Santa's Private Reserve (2020)
8.34% ABV, 26 IBU
Santa's vision for this year's Private Reserve came to him in the candy cane forest where he was busy harvesting peppermint bark to make one of his favorite treats. He called Rogue Ales and ecstatically blurted out, "Peppermint bark milk stout!" Packaged in stunning bottle, 2020 Santa's Private Reserve pours a jet-black color with aromas and flavors of chocolate and peppermint on full display. Just what you'd expect from a peppermint chocolate bar.
Wander Earlybird (2020)
9.6% ABV, 38 IBU
Wander Brewing's Earlybird awakens each fall after a long, deep slumber in freshly emptied bourbon barrels. The Bellingham brewery brews this imperial stout with house made dulce de leche, oats, coffee, and lactose. The Dulce de leche is standout. The bourbon is strong, but smooth, with subtle coffee and chocolate notes. Earlybird grabbed gold at the 2019 Washington Beer Awards in the Wood & Barrel Aged Imperial Stout category.
7 Seas Barrel Aged Imperial Stout (2020)
9.7% ABV
Aged for 12 months in Woodinville Distillers Bourbon and Rye Whiskey oak barrels, 7 Seas Brewing's Barrel aged Imperial Stout (2020) pours a silk black with a full body. Brewed with domestic and UK Pale malt, roasted barley, flaked oats, Munch, Special B Crystal, and Black malt — balanced with Nugget, Magnum, and Cascade hops, expect notes of sweet whiskey, vanilla, charred oak, dark chocolate, and roasted barley.
Deschutes The Abyss (2020)
11.7% ABV
First released in 2006, The Abyss 2020 arrives in 12-ounce bottles for the first time. The most formally recognized and award-winning barrel-aged brand for Deschutes Brewery, The Abyss is an exclusive barrel-aged imperial stout that is released every November. Brewed with licorice, cherry bark, and molasses, the dark malt character is amplified, creating layers and layers of flavors that can be unraveled as the beer warms in the glass. Deschutes utilizes a Trappist yeast capable of handling the high alcohol, and ages in a blend of new oak, bourbon and wine barrels.
---