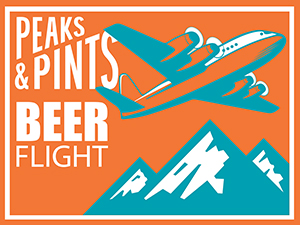 Named after both its founding region in New Zealand and the Sauvignon Blanc grape, Nelson Sauvin is an exciting, distinctive hop varietal that was released in 2000. Hailing from a small bay on the north coast of the country's South Island, the hop sports a compact cone shape with a tapered end. Nelson Sauvin hops have vigorous spring growth and can lend either a dominant hop character to a beer or something much more subtle. Aromas and taste range from citrus to mango and gooseberry, which are supplemented by hints of pepper and allspice. Known to impart a cool climate white wine "fruitiness," Nelson Sauvin's bold, dominant hop character is at home in New World styles and can be used to produce pithy ales as well as delicate yet bitter lagers. Taste what Nelson Sauvin can do to beer at Peaks and Pints today with our to-go beer flight, Peaks and Pints Pilot Program: Nelson Sauvin On the Fly.
Peaks and Pints Pilot Program: Nelson Sauvin On the Fly
Ferment I Heart Nelson
6.4% ABV
Ferment Brewing opened in 2018 as a 20-barrel brewery and tasting room in Hood River, Oregon. Born out of an appreciation for the art of fermentation, the company prides itself in providing a modern brewery and tasting room experience that fuses traditional farmhouse techniques with a forward-thinking scientific approach. Their extra pale ale I Heart Nelson is loaded with the world-famous Nelson Sauvin hops from New Zealand expressing a bouquet and palate akin to the great white wines of the Down Under island.
Matchless Half Nelson
6.8% ABV, 40 IBU
Matchless Brewing pitted two titans against each other with a 50/50 split between Nelson Sauvin and Azacca hops in their hazy IPA, Half Nelson. The two hops work together to produce aromas of peach and apricot with herbal white grape and a touch of tropical fruit. Expect orange citrus, white wine, stone fruit, and a touch of honeydew on the palate.
Ruse Last Sun
6.9% ABV
Shaun Kalis and Devin Benware began brewing their Ruse Brewing beers on a big system before Ruse was a thing. When not brewing for Tomas Sluiter at Culmination Brewing, they used Sluiter's tanks to make their Ruse beer. The moved their operations to a 6,000 square foot in a renovated Iron Fireman Collective building in Sellwood just southwest of Portland. Their Last Sun hazy IPA is brewed with oats, spelt, and wheat then hopped with Nelson and Mosaic for intense aromas of tropical fruit and zippy white wine.
AleSmith Oso Under
7% ABV
Artisanal brewing company AleSmith was born out of the San Diego craft beer boom in the 1990s. They have been consistently ranked on RateBeer's list of best breweries in the world for years. Recently, AleSmith teamed up with another old California brewery, Alvarado Street Brewery of Monterey, to brew a West Coast style IPA with loaded with Australia and New Zealand hops Galaxy, Vic Secret, and Nelson hops. The result is a clean, dry IPA with notes of passionfruit and mild tropical fruit fruitiness, plus a pine and light dank backing.
No Boat Jandy Rohnson
8.4% ABV
No Boat Brewing's Jandy Rohnson is a hazy double dry hopped double IPA worthy of the man himself. A huge dry hopping of Nelson Sauvin and Mosaic on a body of flaked oat and wheat, Golden Promise, Czech Pilsen, and Washington 2 Row brings high heat from the left side for notes of pineapple, dank blueberry, and catty Nelson. This is what it tastes like when the doves fly.
LINK: Peaks & Pints cooler inventory
---