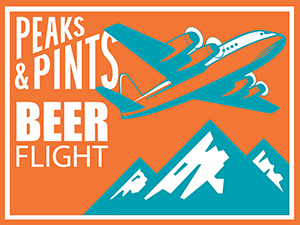 Named after both its founding region in New Zealand and the Sauvignon Blanc grape, Nelson Sauvin is an exciting, distinctive hop varietal that hits the kettles in 2000. Hailing from a small bay on the north coast of the country's South Island, the hop sports a compact cone shape with a tapered end. Nelson Sauvin hops have vigorous spring growth and can lend either a dominant hop character to a beer or something much more subtle. Aromas and taste range from citrus to mango and gooseberry, which are supplemented by hints of pepper and allspice. Known to impart a cool climate white wine "fruitiness," Nelson Sauvin's bold, dominant hop character is at home in new-world styles and can be used to produce pithy ales as well as delicate yet bitter lagers. Taste what Nelson Sauvin can do to beer at Peaks and Pints today with our to-go beer flight, Peaks and Pints Pilot Program: Nelson Hops On the Fly.
Peaks and Pints Pilot Program: Nelson Hops On the Fly
Threshold Green Prophecies
7.3% ABV
Threshold Brewing & Blending is also the passion project for Portland, Oregon, couple Jarek and Sara Szymanski who opened the beer-centric neighborhood of Montavilla two years ago last month. Green Prophecies is Threshold's hop-drenched hazy IPA dry hopped with El Dorado and Nelson Sauvin for tons of melon and stone fruit, finishing dry with a lingering fruit skin bitterness.
Oskar Blues Western Mutant
7% ABV
Western Mutant is the first in Oskar Blues' new series of Mutant IPAs, all of which will showcase the latest mutations in hops and hop technology from the hop-obsessed at the Longmont, Colorado, brewery. The West Coast Style IPA pushes the style forward with new, freaked-out hops spicy Akoya, zesty Saphir, citrusy, piney Simcoe, and tropical, white-wine-like Nelson Sauvin. Its zesty bitterness, clarity, and flavors of grapefruit and pine will seem familiar to West Coast IPA fans, but deeper aromas of papaya, gooseberry and peach may surprise. These tropical notes are balanced with a honey-like malt sweetness that finishes clean with a clear crispness.
Heathen The Hop Matrix
7.9% ABV
What if we told you that the world is not as it seems? That what you thought craft beer was, was a fabrication built to satisfy your every desire? The question you must ask yourself is: Are you ready to find out the truth or keep living in the fantasy that has been put forth before you? The choice is yours with Heathen Brewing's The Hop Matrix, a West Coast Double IPA brewed with a trinity of hops — Nelson Sauvin, Mosaic, and Simcoe — for dank piney notes with an orange citrus sidekick.
Short Throw Stabbo Collabo
8% ABV
Recycled Brewing was formed by two experienced brewers, Jason and Eric, after many spirited conversations amongst friends and family during the pandemic of 2020. Knowing each other professionally, but never working together, they decided it was time to recycle their 20 years of knowledge about brewing and start something of our own. Eric traveled from St. Petersburg, Florida to Connecticut to brew Stabbo Collabo with Short Throw Brewing. This super soft, hazy double IPA is blessed with Nelson Sauvin, Mosaic, and Idaho 7 hops on the hot side. They dry hopped with the same varieties but went Nelson heavy for notes of Stone fruit, citrus, gooseberry, mango, and mixed berries.
LINK: Peaks & Pints cooler inventory
---