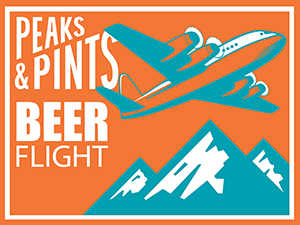 Every year on Sept. 7 — aka National Beer Lovers Day — a certain segment of society raises a glass to commemorate 10,000 years ago when man learned to ferment grain into beer, which tasted much better than unfermented grain. Nomadic hunter-gatherers collected wild grains for food. Because they didn't have gazebos, a pool of warm water formed where the grain was stored. In a short time, the grain fermented, turning the water into a thick dark liquid. Some adventurous soul, probably Homo Erectus Johnny Knoxville, sampled the liquid, and found that it tasted good. Man fell in love with beer and, no doubt, a hangover followed. Lager lovers, ale aficionados, and pilsner proponents have been in love ever since. Since today is National beer Lovers Day, Peaks & Pints presents a to-go flight of beers with feelings — a flight we're call Peaks and Pints Pilot Program: National Beer Lovers Day Flight.
Peaks and Pints Pilot Program: National Beer Lovers Day Flight
Bruery Terreux Goses Are Red
5.3% ABV
Roses are red / Violets are blue / Craft beer costs less / Than dinner for two. This is a rosé — and a gose — by any other name. Goses are Red is a stylish match of a funky, crisp and tart gose with the soft sweetness of a rosé wine. The refreshing wheat-based beer begins with some of the qualities you'd expect from a gose, including coriander spicing and a light saltiness to complement the tartness imparted by Bruery Terreux's house cultures. But the story doesn't end there — it builds in complexity, thanks to time spent in an oak foeder and the addition of grapes, which impart a refreshing rosé character and color. It's a charming interpretation that says all the right things, but it's not as sweet as you.
Wayfinder Pärty Time Pilsner
4.7% ABV
New Seasons Market partnered with Feast Portland and participating artisans and chefs to create limited edition, Feast-inspired products that showcase love for the Pacific Northwest culinary community while bringing pure deliciousness to the table for a great cause. Wayfinder Beer is one of those participating artisans in which Brewmaster Kevin Davey brewed Pärty Time Pilsner for the Feast. It's a foam-crowned, clear, golden, and lively beer with a fine hint of noble hops and a crisp dry, spritzy finish.
Breakside Rainbows and Unicorns
5.2% ABV, 30 IBU
Nothing says love more than rainbows and unicorns. Breakside Brewery's version was originally made for the Oregon Brewers Fest; brewed for the summer with flaked rice to create as light bodied a beer as possible with juicy, tropical, and fruity hop flavors, alongside notes of peach, breakfast cereal, honeydew, apricot and pineapple — thanks to Galaxy, Comet and El Dorado hops. The other reason Breakside's Rainbows and Unicorns session IPA made our National Beer Lovers Day flight? The Portland brewery donated a portion of its proceeds to one of the city's elementary schools. Nice.
Fat Orange Cat Roll Me One, Cowboy, With Pistachio And Marshmallow
13% ABV
(Vincent takes out his pouch of tobacco and begins rolling himself a smoke as Mia
gets a cigarette out of her pack. She sees Vincent rolling one and starts watching
him. She then puts hers back in the pack)
MIA: Could you um, roll me one of those cowboy? (As he finishes licking it)
VINCENT: You can have this one, cowgirl.
(He hands her the rolled smoke. She takes it, putting it to her lips. Out of nowhere appears a Zippo lighter in Vincent's hand. He lights it.)
MIA: Thanks.
VINCENT: Think nothing of it. (He begins rolling one for himself)
Can you guess the name origin of this Fat Orange Cat Brew imperial stout with unique and robust flavors created by a generous amount of crushed pistachios, marshmallow, and a big specialty grain bill?
Wild Barrel Hipster Sweet Dreams
11% ABV
Wild Barrel Brewing's Hipster Sweet Dreams is an imperial pastry stout brewed with organic Indonesian coconut, Madagascar bourbon vanilla beans, and Belgian chocolate. It's sweet with vanilla leading the flavor profile with notes of liquid baking chocolate, tight pants, and a touch of coconut.
LINK: Peaks & Pints cooler inventory
---