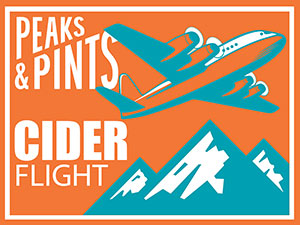 Happy National Apple Day! That's right; Oct. 21 is National Apple Day. Apple pie. Applesauce. Apple crisp. National Apple Day celebrates the apple in all its various forms and reminds us that apples are shiny, tasty, and healthy. "An apple a day keeps the doctor away," "Apple of my eye," and "as American as apple pie" are all very common phrases in our language. Be it good health, familiarity or love, all are used to denote something we hold to be very important to our concept of culture in America. They also call attention to a humble fruit that not only shaped our language, but has also found its way into our landscape, built our economy, our taste in food and drink, our cultural heritage, our mythology and even our religious beliefs. Did you know there are more varieties of apples than any other fruit? Peaks and Pints celebrates National Apple Day in the only way we know — an apple cider to-go flight. Drop by our bottle shop, taproom and restaurant in Tacoma's Proctor District and grab Peaks and Pints Pilot Program: National Apple Day On The Fly.
Peaks and Pints Pilot Program: National Apple Day On The Fly
Samuel Smith Organic Cider
5% ABV
This is a medium dry cider straight outta the oldest brewery in Yorkshire, England. Samuel Smith's Organic Cider hits the nose with a big blend of red and green apples with light sugar, a bit of alcohol, and low spicy yeast elements. On the tongue, expect super clean fermentation characteristics and big apple flavors leading to a medium-dry slightly tannic finish with lingering tart notes.
Alpenfire Pirate's Plank Bone Dry Cider
6.9% ABV
Made with primary native yeast ferment, Champagne yeast finish, stainless maturation, and 4 months neutral oak maturing, then bottle conditioned, Alpenfire Cider's bone dry cider's name is a nod to the rich maritime history of Port Townsend. This Old World bitter sharp cider is a blend of early season, organically grown, estate Kingston Black, Yarlington Mill and Foxwhelp apples for fruity apple pie notes in the aroma with a bit of puckering acidity peaking through at the finish. Expect a tart and earthy taste.
Finnriver Sojourn
9% ABV
Sojourn is the first of Finnriver Farm & Cidery's "travelling," estate-based bottles that feature cider apples grown at their friends' orchards. Made with a robust list of traditional cider apples — Ellis Bitter, Amere de Berthcort, Reine des Pommes — grown at Vista Ridge Orchard in Quilcene, Washington, this fermentation features Vista's first significant harvest of bittersweet and bittersharps. With indigenous yeast naturally present in the fruit, and bottle conditioned, Sojourn offers a deep sense of leather and apples, with baking spice, warm fruit, tannic chewiness and dry finish.
Dragon's Head Russet
9.1% ABV
Named for the dragon that guards the apples of immortality in the Garden of Hesperides, Dragon's Head Cider was founded in 2010 on Vashon Island. Ignoring their last name, owners Laura and Wes Cherry planted a beautiful orchard of apples and pears with production held on site. Their Russet is a blend of Roxbury Russet, Golden Russet, Ashmead's Kernel, Egremont Russet, and Ribston Pippin apples for this complex, aromatic, semi-dry cider with notes of orange, huckleberry and zesty pomelo.
---