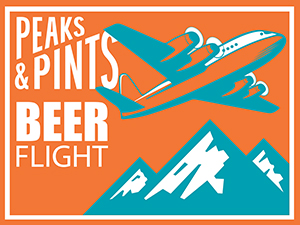 In 2010, Daniel Love opened Mother Earth Brewing Co. in Vista, California, just north of San Diego. After an expansion in Vista, he then set his sights on a larger expansion that saw the opening of its second location, one a fair distance away from San Diego County to Nampa, Idaho, a suburb of Boise. Quickly, it became Idaho's largest brewery. In fact, Mother Earth has enjoyed double digit growth every year since it opened. For the past few years, Mother Earth's best-selling beer in San Diego has been its Cali Creamin' Madagascar vanilla cream ale, and it's Valencia orange version. However, most of the company' business remains driven by IPAs, which is the focus of Peaks & Pints to-go beer flight today. Stop by our craft beer bar, bottle shop and restaurant and grab Peaks and Pints Pilot Program: Mother Earth IPAs On the Fly.
Peaks and Pints Pilot Program: Mother Earth IPAs On the Fly
Mother Earth Project X: Cognitive Aerobics
7.2% ABV, 28 IBU
Mother Earth spent 18 months fine-tuning their hazy IPAs, grouping them under their "Project X" series. This straw-colored haze bomb is brewed with a combo of New Zealand and PNW hops lending a huge aroma, full of citrus and fruit candy. Peach rings, orange marmalade, and lemon zest are just a few adjectives that describe the nose on this choice, lactose-free west-coast hazy. A light malt profile allows the citrus and tropical qualities to shine.
Mother Earth Project X: Rail Jam
6.9% ABV, 25 IBU
This ultra-soft hazy IPA is brewed with rolled wheat and oats, creating a smooth, medium body mid-palate. At under 5 SRM, the appearance presents an almost chartreuse-like limeiness that glows off of suspended proteins. Lemon drop hops layer a delicate citrus aroma on top of an herbaceous and fruity core. Rail Jam drinks exceptionally smooth, with almost no pronounced bitterness to speak of, with bright lemon-lime qualities in addition to melon, peach, and tangerine.
Mother Earth Project X: Flawless Imperfection
7.5% ABV, 27 IBU
This Project X IPA has higher gravity balanced by a weighty body and wheat-like flavor. Late-edition Sabro hops shine bright with aromas of tangerine, coconut, tropical fruit, and stone fruit, with hints of cedar, mint, and cream. Like others in the Project X Series and true-to-style, a lasting haze persists through to the bottom of the glass and presents opaque.
Mother Earth Big Mother
10.5% ABV, 100 IBU
Big Mother has been Mother Earth Brewing's anniversary ale since it opened 11 years ago. Its everything you expect from a triple IPA: Big but not too boozy, massively hopped, and just enough caramel malt character to balance the higher alcohol and lingering bitterness. A whirlpool and dry hop assault lend aromas and flavors of apricot, orange, red grapefruit, and papaya.
LINK: Peaks & Pints cooler inventory
---