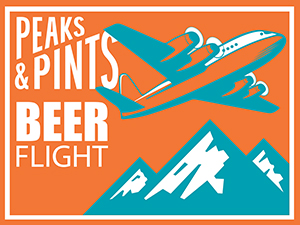 Nicknamed the sugarbush, the sugar maple yields sap that is boiled and concentrated into one of the best reasons to wake up any morning: an amber or golden maple syrup to douse pancakes and waffles — or add to craft beer. It's healthful, too: high in manganese and zinc, maple syrup is touted to help strengthen the immune system. It has antioxidant compounds, and research continues to tie its beneficial effects to the prevention of neurodegenerative diseases. Anyhoo, Peaks and Pints is a craft beer bar and bottle shop, not a maple syrup store. Brewers do, however, add maple to their beers, which is right up our alley. Stop by Peaks and Pints today for a to-go flight of beer brewed with maple — a flight we call Peaks and Pints Pilot Program: Maple Beer Flight.
Peaks and Pints Pilot Program: Maple Beer Flight
Great Notion Tip Top of the Morning
6% ABV
Great Notion was the first Portland brewery to become known for hazies, and the controversial style, and traditionalists hated it. Now the traditionalists are all wearing Great Notion T-shirts. In addition to their hazies, the brewery's barrel program offers award-winning American sour ales aged for 9-24 months in oak barrels with portion of their sour ales blended with Oregon fruit. A collaboration with Around The Horn Brewing Company in Groveleand, California, their Tip Top of the Morning smoothie sour is loaded up with strawberries, granola, bananas, maple syrup, and vanilla.
High Water Sugaree Maple Bourbon Pecan Pie
9.8% ABV, 28 IBU
Brewing a nut-based beer isn't easy as pie. In the case of pecans, oil can easily destroy a beer's foamy head. Plus, capturing pecans' delicate scent can be tricky, as too much roasting ruins the aroma. But High Water Brewing cracked the nut by adding Vermont maple sugar and bourbon barrel oak chips. Call us nuts but any beer that's 9.8 percent with this level of sweetness is meant to be a sipper, so we slowly enjoy toasty malts and charred marshmallow with a splash of vanilla-laced whiskey and peanut shell after the last sip.
Imprint Phoenix Rising
13% ABV
The city of Phoenix was given its name by its founders because it had sprung from the ruins of a former civilization that had vanished into history. As a result, the Phoenix bird became the official city symbol. The phoenix bird symbolizes immortality, resurrection, and life after death, and in ancient Greek and Egyptian mythology it is associated with the sun god. Imprint Beer Co., located in Hatfield, Pennsylvania, titled their pastry imperial stout Phoenix Rising, which they brewed with Upper Reach Meadery, also in Pennsylvania. They concocted this stout with a combination of British and American malts, then added maple syrup and honey to the secondary fermentation. Post fermentation they added chocolate, hazelnuts, and marshmallow.
Prairie Barrel Aged Moose Boots
13.4% ABV
After you get past the moose wearing a suit and work boots listening to music, a breakdancer, spray can, a pigeon sitting on a cone, and a money sign gold chain on the label, Prairie Artisan Ales' barrel-aged imperial stout brewed with maple syrup, toasted almonds, and vanilla hits the nose with roasted malt and a little oak bourbon. On the tongue, expect chocolate fudge maple syrup brownie with a touch of oak.
Short Throw Fade Away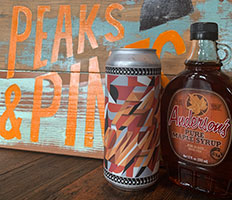 13.1% ABV
Brandon Tolbert gained notoriety during his time as head brewer at The Answer Brewpub.  In 2015, the Answer was awarded Best New Brewery for the state of Virginia with Tolbert at the helm.  He parted ways in 2018 to brew at Final Gravity Brewing and Ardent Craft Ales, while trying to establish his own brand.  He completed that goal in late 2019, partnering with the Twelve Percent Beer Project, to launch Short Throw Brewing. A collaboration with Other Half Brewing, Tolbert's Fade Away imperial silky, viscous pastry stout has a luscious chocolate forward malt base with ludicrous amounts of Vermont maple syrup and roasted coffee.
Bombastic Waddle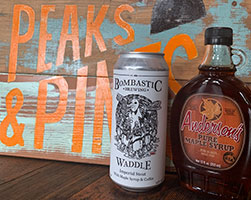 14% ABV
Collaboration with Sawtooth Brewery, this imperial stout is laden with robust maple syrup and cold-pressed Thomas Hammer Coffee, Bombastic Brewing begins with a big roasty imperial stout base then adds maple syrup twice — first in the boil to add a woody maple kick, then in the fermenter to highlight traditional maple syrup flavor.
LINK: Peaks & Pints cooler inventory
---