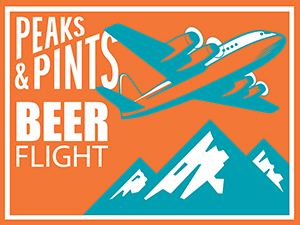 It's maibock drinking season, at least according to the Germans. Since 1614, the first kegs are tapped at Munich's Hofbräuhaus during the last week of April (obviously not this year) as they bid auf wiedersehen to winter and welcome the warming days of spring with a lager strong enough to withstand cooler nights but aromatic enough to match the flowering trees and budding plants outside. Maibocks (mai-, pronounced "my," is German for May), like other bocks (stout lagers) are malt-forward, full-bodied beers with a stronger alcohol content (6.3 to 8.1 percent). But, unlike their darker brothers the dopplebock, maibocks highlight floral hop characteristics that keep the sweet, malty experience light and bouncy. Because maibocks came at a time when the availability of pale malts changed how brewers approached beer, you will occasionally find the term "maibock" interchangeable with heller bock or helles bock (helle is German for bright). Since it's the last week of April, Peaks and Pints presents a to-go maibock flight we call Peaks and Pints Pilot Program: Maibock On the Fly.
Peaks and Pints Pilot Program: Maibock On the Fly
Occidental Maibock
7% ABV
As the story goes, when Sweden occupied Bavaria during the Thirty Years' War, the city of Munich was able to prevent its own pillaging by promising the Scandinavians 1,000 gallons of maibock. Occidental Brewing's version is an easy-drinking, refreshing example of the style with a very slight sweetness and moderate alcohol finish. 7%
Matchless Matchbock
5.6% ABV
Germans were traditionally drinking maibock after a long winter of drinking regular bocks and brown doppelbocks. Maibocks are nice and clean and bright and it represents springtime. Matchless Brewing's Matchbock maibock beer is brewed with Best Maltz Pilsner and Vienna malts with a touch of flaked corn for a bright crisp finish and then lightly hopped with Wakatu, New Zealand's take on Hallertau.
Heater Allen Lenzbock
6.2% ABV
Maibock's clear copper color deserves to be the focal point. For the dinner table, a footed pilsner glass will show off the its brilliant hues and focus the malty aroma slightly to make it even more evident. Lenz translates to "spring" in German, which Heater Allen thought would be the perfect name for this maibock seasonal with rich, nutty aromas complemented by floral, malty flavors and a slight bitter finish.
Rogue Dead Guy Ale
6.8% ABV, 40 IBU
Maibock is a lager that's customarily brewed in the dead of winter and aged until spring. The style tends to be a little lighter in color than traditional bock beers. Maibocks emphasize malt, and while some hoppy bitterness might be evident, it should not be assertive — just enough to lend crispness to the profile and especially the beer's finish. Dead Guy Ale has been around for a while, and to many people, it's the standard that all American-made maibocks are held to. Dead Guy Ale incorporates Rogue Ales' proprietary Pacman yeast, and features Pearl and Sterling hops for a robust take on the classic German beer. Although the beer's missing the style's bread crust, the present flavors are harmonious: Bread with toasted edges runs over the tongue before orange notes pop up. Hefty bitterness chases the swallow while peppery alcohol prickles the sip front to back.
LINK: Peaks and Pints Pilot Program to go beer flight archives
---