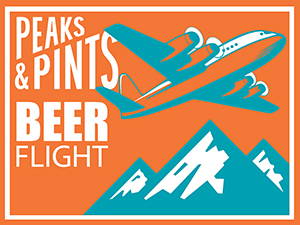 October in Washington brings juicy plums, the smell of boiling Dungeness crab and pumpkin spice lattes. But for beer drinkers, October still means wet hop beers. One of the most seasonally specific styles that a brewery can make, wet-hop (or fresh-hop — there isn't a difference) beers are brewed with just-harvested whole-cone hops rushed from farms to brew kettles to capture the most vibrant flavors and aromas of these pungent flowers before they begin to fade. This limits the brewing period to the very short hops harvest season every August and September, with the bounty arriving in early October, at least this year. Today, Peaks and Pints presents the last round of wet-hop beers in a to-go flight, Peaks and Pints Pilot Program: Last Fresh Hoptober On The Fly.
Peaks and Pints Pilot Program: Last Fresh Hoptober On The Fly
Deschutes Chasin' Freshies
6% ABV, 50 IBU
Inspired by Deschutes Brewery's co-owner's eternal search for fresh powder on the mountain or perfect dirt on the trails, Chasin' Freshies captures hops in their purest form direct from the field. The hops for Chasin' Freshies change year to year and are hand selected in the hop fields alongside the farmers. This year, this clean, crisp fresh hop IPA captures the honeydew melon and tropical passionfruit notes from fresh El Dorado and Zappa hops.
StormBreaker Fresh Hop House Martell
6.5% ABV, 55 IBU
House Martell is the ruling family of Dorne, the southernmost region of Westeros and the only region of Westeros to successfully resist the conquest of Aegon the Conqueror. Yes, indeed, StormBreaker Brewing House Martell is a Game of Thrones themed single hop hazy pale ale brewed exclusively with Citra hops for aromas of grapefruit and melon. But, for the fresh hop version, the Portland brewery added more than 200 pounds of fresh Mosaic hops for tantalizing aromas of grapefruit and papaya. The ale that follows is juicy and lavish; indicative of the house it is named after. This New England style pale ale won't make you bend the knee, but it might quench your thirst for vengeance.
Lagunitas Born Yesterday Pale Ale
7.2% ABV, 60 IBU
Born Yesterday is a newborn version of Lagunitas Brewing's re-born Pale, a newer New Dogtown Pale with a fresh addition — wet, lupulin-drenched, un-kilned, whole-cone, fresh-picked-and-rushed-straight-from-Yakima hops. The Northern California brewery packs a crapload of fresh Citra, Simcoe, Mosaic, and Sabro hops for sweet grassy resiny hop oils, berry and citrus notes, plus an old school, fresh hop profile through and through.
Future Primitive Social Strata Fallacy
7.2% ABV
In a nutshell, Strata (formerly known as X-331) is an open pollinated German born Perle hop that Oregon State University's hop-breeding program tweaked with Indie Hops. Strata expresses many of the oils associated with mango, oranges, and other fruits and herbs. Future Primitive Brewing's Strata fresh hop IPA, Social Strata Fallacy, offers dried and fresh fruit aroma with a dank backbone and some grapefruit followed by grassy bud.
Sierra Nevada Northern Hemisphere Harvest Wet Hop Ale
6.7% ABV, 67 IBU
Sierra Nevada Brewing's Northern Hemisphere was the first wet hop ale and it inspired the wet hop craze in America. Wet, undried hops go straight from the fields into the Chico, California brewery's kettles within 24 hours. Because hops are incredibly perishable, using hops wet preserves all of the precious oils and resins for a unique drinking experience. This year, they picked 100 percent Centennial hops at their peak, rushing the harvest into their brew kettles the very same day to make a wet hop IPA loaded with notes of citrus blossom, rose, and pine.
---