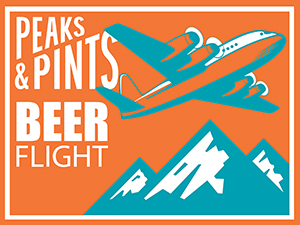 While the New England-style, or hazy, IPA is the most sought after beer style, it's cousin, the juicy IPA, is gaining momentum as a close second choice. Why? Well, it's all about the fruit. The term "juicy" refers to the aroma and taste of the beer — meaning it's reminiscent of fruit juice, typically citrus or stone fruit. These flavors and aromas are primarily driven from fruit-forward hops such as Citra, Mosaic, Galaxy, Amarillo, and El Dorado. These hops are added later in the boil and at whirlpool to maintain the aroma, as well as dry hopped in copious amounts. The other characteristic of Juicy IPAs is sweetness. English yeasts and fruit-forward hops offer sweetness, as well as fruit flavors, and the absence of bittering hops leaves the beer out of balance. There isn't a classic juicy IPA used as a standard, but there are many IPAs wearing "Juicy" in their name, which is the focus our to-go beer flight today, Peaks and Pints Pilot Program: Juicy IPAs On The Fly.
Peaks and Pints Pilot Program: Juicy IPAs On The Fly
Ninkasi Prismatic Juicy IPA
5.9% ABV, 36 IBU
June 15, 2006, Ninkasi Brewing Company set out with a single mission: Perpetuate Better Living. Operating under this core purpose, the brewery has grown from a two-man team — Jamie Floyd and Nikos Ridge — to become the 35th largest craft brewery in the United States, operating entirely from its facilities in Eugene, Oregon and employing more than 100 employees. Ninkasi brews their Prismatic Juicy IPA with Mosaic cryo and dry hops it with Simcoe cryo, as well as El Dorado, Centennial, Simcoe, and Citra hops resulting in notes of pineapple, passionfruit and guava.
Uinta Clear Daze Juicy IPA
6% ABV, 40 IBU
Unita Brewing's new Clear Daze Juicy IPA isn't crystal clear due to oats in the grain bill. It's brewed with Citra, El Dorado, Mosaic, and Galaxy for hop aromatics of pineapple, mango and passionfruit. The tropical nose transfers to a silky-soft mouthfeel with subdued orange, pineapple, and mango, plus a touch of pine. The finish is slightly sweet and not at all bitter.
New Belgium Voodoo Ranger Juicy Haze IPA
7.5% ABV, 42 IBU
New Belgium Brewing is kicking off 2020 with a new addition to the Voodoo Ranger family, Juicy Haze IPA. This medium bodied, unfiltered IPA is packed with Citra, with additional Cascade, Centennial, Simcoe, and Nugget hops. It pours pale orange with an opaque haze and bright white head. Vibrant lemon, orange, guava and pineapple notes are balanced with a light grassy and caramel-like malt aroma giving the beer a sweet start that transitions into a smooth, bitter flavor. The soft, velvety mouthfeel wraps up with a pleasantly clean finish.
Reuben's Brews Gorilla Imperial Juice Hazy IPA
8% ABV
This is the imperial version of Reuben's Brews' annual collaboration with Gorilla FC, an official Seattle Sounders FC supporters group that utilizes passion for soccer to support the Puget Sound community. Released this month to celebrate the late start of the Seattle Sounders' season, Gorilla Imperial Juice Hazy IPA is brewed with Chinook, Citra and Lotus hops for an orange, pineapple, mango and slight pine nose. Citrus, pineapple, stone fruit, and melon coat the tongue with some bready malt, light pine, and a hint of white pepper.
---