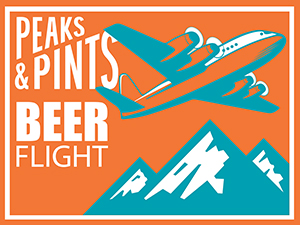 There is something you should know about beer: There is a holiday for virtually everything about beer that is celebrated somewhere, somehow, including today's IPA Day, which gives glory to hops, bittering units and IPAs. Founded in 2011, IPA Day is a global celebration of craft beer. It is a universal movement that was created to unite the voices of craft beer enthusiasts, bloggers and brewers worldwide. IPA Day was originally developed as a social media-based holiday, but has since expanded into a worldwide party — OK, maybe not so much this year — but Peaks & Pints celebrates with 10 IPAs on tap for Campfire Crowler fills and a to-go IPA flight we call Peaks and Pints Pilot Program: IPA Day On The Fly.
India Pale Ale (IPA) is a style of beer that has soared in popularity over the last few years. Loaded with hops, IPAs have a distinct bitterness, with flavors derived from hops that can range from citrus, to grass, to pine as well as many other flavors. The female flowering cones of hops plants (humulus lupulus) are used and do two things to beer: preserve the beer by warding off spoiling bacteria and stabilize the beer by filtering, adding head retention, and flavoring — which adds bitterness. Originally brewed in England as a beer that could withstand the long journey to India (hops act as a preservative in the beer), IPAs are now one of the most popular styles. Have a hoppy Day!
Peaks and Pints Pilot Program: IPA Day On The Fly
E9 Realize Real Lies IPA
6.4% ABV
With the new 15-barrel brewhouse now up and running, E9 Brewing's new location in Tacoma's Historic Brewery District has been brewing more award-winning farmhouse and wild ales, hop forward pales and IPAs, led by Head Brewer Shane Johns. E9 Realize Real Lies is a slightly hazy IPA that starts on the "hot" side of the brew with late additions of Centennial and Chinook, and finished with double dry hopping of Amarillo and Simcoe imparting fruity yet dank aromatics, followed by a fruity splash on the tongue.
Fremont Head Full of Dynamite v21
6.8% ABV
Fremont Brewing's Head Full of Dynamite falls into the camp of hazy IPAs. A hefty dose of flaked wheat, white wheat, and malted oats added to the grist combines with an assertive Sabro, Centennial, and Comet hops for big notes of pineapple, papaya and mango on the nose with a slightly sweet opening, a little pine and pineapple, plus a dry, bitter finish. It's not a juice bomb, although it's a well-balance fruity, hoppy delicious IPA with a smooth mouthfeel.
Mother Earth Alone In Space
6.9% ABV, 30 IBU
Know for it's tropical aromatic qualities, the featured hop in Mother Earth Brewing's Alone In Space, Sabro, really shines with a robust bouquet of tangerine, coconut, tropical and stone fruit, with hints of cedar. To support its hoppy character with includes Galaxy, Mosaic, and El Dorado, a simple grain bill consisting mainly of the breakfast-champion grain, oats, is used to add a creamy body and limit malt influence.
Baerlic Future ISMS
8% ABV
"In honor of all the great things to come in the New Year, we brewed up a totally tubular Double Hazy," states Baerlic Brewing's website. Indeed. Brewed with a malt bill of Weyermann Pils, wheat, oat malt and oats, then tumbled with El Dorado and Strata hops, Future ISMS sports a creamy body popping of overripe papaya, rock concert cannabis and sweet candy.
Ruse Translator
6.6% ABV, 60 IBU
This is Ruse Brewing's true West Coast IPA. This medium-bodied, well-balanced IPA uses dry-hop additions to achieve tropical fruit flavors and aroma, including orange and caramel malt. Expect a clean, dry finish with a big-hop punch.
---