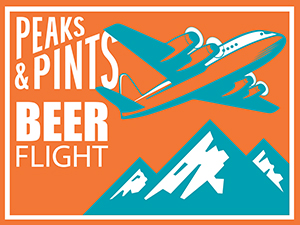 Sometimes, you just want a damn beer. You know the kind Peaks & Pints speaks. Beer that tastes like beer. Beer that you'd reach for while mowing the lawn or complaining to the cable company. Beer for sitting on the patio or watching a baseball game. Good old, regular, plain, normal, lager. Sorry, but brewers are messing with your damn beer. They're making lagers hoppy. They're switching out Galena hops for low-cohumulone hops —Simcoe, Magnum, Horizon — or going all in with American C-hops, adding citrus and tropical fruit flavors. These brewers know bitterness is often going to be more prominently "on display" due to the clean playing field, but they're OK with it. Today, Peaks & Pints presents four lagers with a little bit. It's a to-go beer flight we call Peaks and Pints Pilot Program: Hoppy Lagers On the Fly.
Peaks and Pints Pilot Program: Hoppy Lagers On the Fly
Ecliptic/Ruse Italian-Style Pilsner
5.3% ABV
Ecliptic Brewing's first Cosmic Collaboration Series beer for 2020 is the Italian-Style Pilsner⁠ brewed with Ruse Brewing's co-owners/brewers Shaun Kalis and Devin Benware. Lagered for 8 weeks, this German-style pilsner is dry-hopped with European hops for maximum aroma and a crisp, clean palate with a lot of hop flavor and a rather prominent bitterness. The malt base is clean with clean grain and light straw. Light in body, this beer is solid.
Bitburger Triple Hop'd Lager
5.8% ABV
Following up on first collaboration beer "Oktoberfest" in fall 2019, Sierra Nevada Brewing traveled to Bitburger Brewery in Bitburg, Germany, to brew this lager brewed with a combination of American hops — Cascade, Centennial, and Chinook — paired together with Siegelhopfen, Bitburger's proprietary and unique hop blend that's sourced from a farm just a few minutes from the brewery. The result is a floral and citrus/grapefruit profile.
E9 Tac City Lager
5.9% ABV
E9 Brewing brewed a traditional lager with a Northwest hop twist. A full bodied malt bill of malted barley with a touch of Munich and Carahell malt is bittered with Chinook, and flavored with Centennial. After fermentation and six weeks of lagering, Tac City Lager is filtered and dry hopped with a copious amount of Cascade for the classic citrus, grapefruit aromatics.
Rogue Dead Guy Ale
6.8% ABV, 40 IBU
Maibock is a lager that's customarily brewed in the dead of winter and aged until spring. The style tends to be a little lighter in color than traditional bock beers. Maibocks emphasize malt, and while some hoppy bitterness might be evident, it should not be assertive — just enough to lend crispness to the profile and especially the beer's finish. Dead Guy Ale has been around for a while, and to many people, it's the standard that all American-made maibocks are held to. Dead Guy Ale incorporates Rogue Ales' proprietary Pacman yeast, and features Pearl and Sterling hops for a robust take on the classic German beer. Although the beer's missing the style's bread crust, the present flavors are harmonious: Bread with toasted edges runs over the tongue before orange notes pop up. Hefty bitterness chases the swallow while peppery alcohol prickles the sip front to back.
---