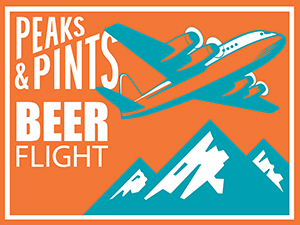 Breweries and cideries support good causes in their communities throughout the year, but at the holidays they also band together to do more. When Douville Home Group approached 14 such breweries and cideries to join this year's Hoppy Holiday Food Drive, all 14 said "yes" faster than you can say "253," especially when they learned the Emergency Food Network would be, once again, the beneficiary. Indeed, 7 Seas Brewing, Black Fleet Brewing, Camp Colvos Brewing, Cockrell Hard Cider, Dunagan Brewing, E9 Brewing, E9 Firehouse & Gastropub, Fierce County Cider, Gig Harbor Brewing, Incline Cider, Narrows Brewing, North 47 Brewing, Odd Otter Brewing, Sig Brewing, and Wet Coast Brewing have been collecting canned goods for a month, with the final food count and celebration party at 6 p.m. inside Peaks & Pints tonight. The 14 breweries and cideries will have a beer or cider on tap tonight. Drop by Peaks with non-perishable food, have a pint or four, maybe win some raffles prizes, then take home a local beer flight that we call Peaks and Pints Pilot Program: Hoppy Holiday Food Drive Beer Flight. We wish we could offer bottles and cans from each brewery and cidery, but we currently can't accomplish that task, but here is what we have in the cooler. Cheers!
Peaks and Pints Pilot Program: Hoppy Holiday Food Drive Beer Flight
Black Fleet Lil B4 Noon Mocha Stout
4.8% ABV, 35 IBU, draft
In the summer of 2018, Kyle Maxwell and Caitlyn Byce opened Black Fleet Brewing, a 10,000-square-foot, two-story brewery equipped with a 10-barrel system in Tacoma's Historic Brewery District. Their Lil B4 Noon Mocha Stout offers chocolate flavors of roasted barley intertwining with Caffé D'arte's locally roasted "Meaning Of Life" coffee in a velvet wave of decadence. Background notes of dark cherry and honey keep this brew on the sweeter side of life.
Sig Jack & Holden's ESB
5.1% ABV, can
Founded in spring 2020, Duncan Susag, brother Alex Susag and cousin John Samuelson opened Sig Brewing on the edge of Tacoma's Historic Brewery District, along Tacoma Avenue South in the building formerly occupied by Duncan's concrete design firm, Studio Make. Head brewer Jeff Stokes has been cranking out delicious craft beers, including this classic ESB brewed with all British malts — Maris otter forms the base and a hint of Caramalt and Pale Chocolate create lovely roast and texture.
7 Seas Fruited Hazy IPA
6.2% ABV, 55 IBU, can
In 2016, 7 Seas Brewing opened a new location spanning two city blocks in Tacoma's historic Brewery District adjacent to the University of Washington campus. Housed in the Heidelberg Brewery's former distribution warehouse, the new facility was a ten-fold increasing in brewing capacity compared to their Gig Harbor location. Brewed with blood orange and passionfruit, this fresh and juicy hazy IPA offers tropical fruit and ripe citrus notes.
Narrows Griswold Hazy IPA
6.8% ABV, 45 IBU, can
Founded in July 2013 by a group of friends, Narrows Brewing Co. is a 15-barrel brewhouse built on wood pilings next to Narrows Marina above the Narrows waterway with a glorious view of the Narrow Bridge and active waterfront. Peaks and Pints asks you to skip the view for one day and drink Narrows' holiday beer, Griswold Hazy IPA, brewed with 2-Row and malted wheat. The Tacoma brewery double dry hopped it with Citra and a touch of Strata at six pounds per barrel resulting in an aroma of orange, strawberry, and a little coconut for the hap, hap, happiest Christmas since Bing Crosby tap-danced with Danny f—ing Kaye.
Wet Coast Fixed the Newel Post
8.5% ABV, 70 IBU
The imperial red ale style (sometimes called a double red ale) is medium- to full-bodied and known for strong hop bitterness, aroma, and flavor. While the hoppiness can be intense, the bitterness and underlying malty tones blend with the alcoholic strength of the beer to lend a spicy complexity to the flavor profile. Wet Coast Brewing brews this imperial red ale with Caramel and Crystal Rye malts for sticky-red-sweetness with enough hops for resinous pine and juicy citrus flavors and aromas.
E9 Sekiu 2022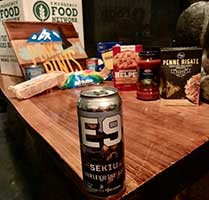 10% ABV
In the early '90s, Dusty Trail converted the historic Engine House No. 9 bar into a brewpub at the corner of Sixth Avenue and Pine Street, officially becoming the first microbrewery in Tacoma. Dick Dickens grabbed the Engine House reins in 2002, bringing in head brewer Doug Tiede. Heads turned and medals were hung. In 2011, The X Group added the Engine House to their local restaurant empire, with Shane Johns and Donovan Stewart running the kettles and hanging even more medals, mostly for their sours and saisons. Two years ago, they separated the brewery from the restaurant and opened E9 Brewing in Tacoma's Historic Brewery District. E9's Sekiu English-style barleywine is aged for more than a year in Heritage Distilling Rye Whiskey and Heaven Hill Bourbon barrels for classic notes of candied dried fruit and toffee character with a lovely, restrained barrel complexity.
LINK: Peaks & Pints cooler inventory
---
Category:
Beer Flight
,
Beer Line Blog
,
Contest
,
Craft Beer
,
Critical Drinking
,
Events and Festivals
,
In The Cooler
,
Peaks and Pints Lodge Meetings
,
Proctor District
,
Shop
,
South Sound
,
Specials
,
Tacoma events