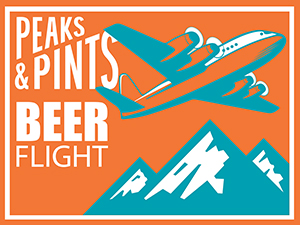 Hogwarts Legacy drops today. Finally. Avalanche Software officially announced the game in 20202, although development on the project started much earlier than that. The studio originally aimed for a 2021 release window, but delays forced PS5, Xbox Series X/S, and Nintendo Switch players access the game on Feb.  10, 2023. Anyone who pre-ordered the Hogwarts Legacy Deluxe Edition will get to play the game starting today. The open-world Harry Potter game allows players to explore the magical school Hogwarts as a young witch or wizard as they attend school, fight monsters, fly on broomsticks and cast spells — all in a fantastical open-world. The game takes place a hundred years before the events of the Harry Potter books, which means players won't run into familiar characters, only familiar fantasy. For those 21 and older, Peaks & Pints suggests you drop by our craft beer lodge and grab our to-go flight of beer — Peaks and Pints Pilot Program: Hogwarts Legacy Flight — to enjoy while attending Charms, Defense Against the Dark Arts, Herbology, and Potions classes.
Peaks and Pints Pilot Program: Hogwarts Legacy Flight
Wayfinder Crusher Destroyer
7.2% ABV
Hogwarts Legacy is full to the brim with playful creatures and terrible monsters, as every open-world game should be (and it truly is an open-world game, complete with enemy strongholds and iconic locations). When the monsters arrive, grab a Wayfinder Beer Crusher Destroyer. The otherworldly roar of the Tyrannosaurus rex in Steven Spielberg's Jurassic Park is the first thing you hear when you hit play on Remission, the debut album by Mastodon, an Atlanta, George, sludge metal band named after a beast almost ten feet tall and weighed in at roughly five tons that perished in 800 A.D. After the roar, the band launches into "Crusher Destroyer," one of the fastest, shortest, grooviest, proggiest sludge metal songs of all time. Wayfinder Beer named their behemoth of a smoked bock after the song — a richly imbued rauchbier with deep caramel malts and beechwood smoked Weyermann malt. Wayfinder Brewmaster Kevin Davey also employed another all-but-forgotten brewing process called double decoction, where a portion of the mash is removed, boiled with very high heat, then added back to the main mash to create intensely malty flavors. It'll send taste buds back in time to taste the origins of modern beer.
E9 Swords And Sorcery
7.3% ABV
Playing Hogwarts Legacy is a reminder that few fictional worlds are as bewitching as Harry Potter's. The game's main story focuses on the player's connection to mysterious ancient magic and a sinister dark wizard in league with the intense leader of a goblin rebellion. You'll need all the weapons and magic to survive will sipping on E9 Brewing's appropriately named Swords And Sorcery IPA. E9's Swords And Sorcery showcases New Zealand grown hops, combining three of the best — Waimea, Motueka, and Rakau hops — with Bru-1's pineapple notes and Columbus hops. Motueka is commonly referred to as the "Mojito" hop for its lime aromatics, while Rakau can tend to be all over the "orchard" in characteristics. Rakau exhibits apricot, to pear, to mango and plum aromatics, from these late edition hops.
Urban Family Wizard Party
9.5% ABV
Every time Gryffindor won so much as a Quidditch match, let alone the actual House Cup, the common room descended into chaos. With Fred & George always having the mysterious means to provide endless party food, and Gryffindors in general being a rowdy bunch, you can just imagine the hijinks they must have got up to at Hogwarts. Wands at the ready, Tacoma. Urban Family Brewing's Wizard Party doesn't quite hit the 10 percent level, but this "triple IPA' brewed with more than 4.5 pounds per barrel of El Dorado, Azacca, Sabro, and Mosaic hops is magical. Witches and wizards can expect to lose themselves in a magical elixir that bursts with flavors of ripe mango, strawberries, papaya, and orange juice.
Ladd & Lass Holographic Memory
10% ABV
In the first Harry Potter film, Harry Potter and the Sorcerer's Stone, Harry orders a box of Chocolate Frogs from the Hogwarts Express snack cart, while en route to his first year of wizarding school. The chocolate frog escapes through the train's window, but Harry receives a consolation prize in the form of a Famous witches and Wizards holographic-style trading card, which comes one in every box. These eye-catching trading cards are technically accomplished through magic, but their 3D depictions look and act just like real-world, muggle holograms. Ladd & Lass Brewing brews Holographic Memory with an absurd amount of Centennial, Citra Cryo, Sabro Cryo, and Ekuanot Lupomax hops for an herbal, minty hop aroma with a rather sweet malt base. On the tongue, expect a big malt sweetness for big hop flavors with the minty and herbal notes from the nose. It's smooth, with a medium body and big creaminess.
Pelican Siren of the Sea
10.7% ABV, 28 IBU
Siren, in Greek mythology, is a creature half bird and half woman who lured sailors to destruction by the sweetness of her song. Technically, we don't see a real siren in the Harry Potter movies, but we do see a stained glass depicting one. Sirens are considered the most beautiful subspecies of merpeople. They typically live in bodies of warm water and are characterized by their beautiful singing voices. Harry stumbles upon this siren portrait inside a Hogwarts bathroom, which helps him figure out a clue for the Triwizard Tournament. Luring beyond just wizards, Pelican Brewing's Siren of the Sea enchants beer lovers across the rugged coastlines. In a true tale of two seas the Pacific City, Oregon, brewery continue their ongoing collaboration with Clonakilty Distillery in County Cork, Ireland for this epic barrel-aged beauty. Traveling across the Atlantic, these Irish Whiskey Single Grain Bordeaux barrels were used to age this deep malty, amber ale for over a year. With her release from the French oak casks, Siren of the Sea has notes of rich malt, fruity berries and wood spice with vanilla-like flavors and a smooth, balanced finish.
LINK: Peaks & Pints cooler inventory
---