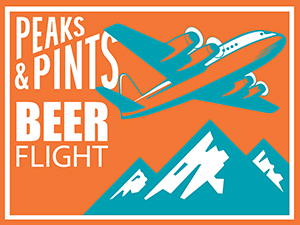 In 2016, Great Notion Brewing opened in Northeast Portland and opened the city's eyes. Owners James Dugan, Andy Miller, and Paul Reiter basically freaked out the city known as Beervana with their New England-style IPAs and boundary-pushing culinary-style beers. The awards followed: World Beer Cup, GABF, Best of Craft Beer Awards, and Oregon Beer Awards, as well as the 2018 #1 IPA in America from Paste Magazine, Ripe IPA. Great Notion was the first Portland brewery to become known for hazies, and the controversial style, and traditionalists hated it. Now the traditionalists are all wearing Great Notion T-shirts. In addition to their hazies, the brewery's barrel program offers award-winning American sour ales aged for 9-24 months in oak barrels with portion of their sour ales blended with Oregon fruit and freshly emptied bourbon barrels age their imperial stouts on ingredients such as roasted coffee, vanilla beans, chocolate, and maple syrup. Today, Peaks & Pints presents a to-go flight of Great Notion's beers — a flight we're calling Peaks and Pints Pilot Program: Great Notion Beer Flight.
Peaks and Pints Pilot Program: Great Notion Beer Flight
Great Notion Lite
4.2% ABV
Notion Lite is Great Notion's American light lager brewed with pilsner malt, flaked rice, and some Saaz hops. Expect lightly sweetened cereal fizz past your palate, swirling through biscuit notes. The bready blast blends with slight hop bitterness making it better than water.
Great Notion Blueberry Cobbler Muffin
6% ABV
Hey, Southern Grist Brewing! You got your Blueberry Cobbler smoothie sour stuck in Great Notion's Blueberry Muffin fruited sour. Or is it the other way around? Brewed in collaboration with Southern Grist in Nashville, Tennessee, Blueberry Cobbler Muffin is a hybrid of the two sour ales. Expect aromas of tart blueberry, granola, hints of lemon, granola, and sugar, followed by blueberry yogurt with granola.
Great Notion Double Strawberry Cheesecake
8.5% ABV
Double Strawberry Cheesecake is a tart ale made with Oregon strawberries and a swirl of vanilla. It's the strawberry version of Great Notion's Zest Berliner Weisse series, the cousin to Blueberry Muffin and Key Lime Pie. It tastes close to strawberry cheesecake, perfect balance of silky smoothness along with a tart strawberry bite. It's a sweet, creamy confection made to satisfy that cheesecake craving topped off with strawberry and vanilla.
Great Notion Ripe
7% ABV
In addition to the bears and Sasquatches, Chad Eaton draws skeletons names "moss" on many of Great Notions IPA cans, include Ripe. Skeletons, our internal structure, are meant to be hidden, which makes them spooky to see — even if they're playful on the Great Notion cans. Ripe IPA, a 100-percent Citra hopped hazy IPA, brings flavors of fresh squeezed OJ, dank papaya, and tropical mango, slowly fading into pithy bitterness.
Great Notion Love & Ritual
7% ABV
The Great Notion brewers loaded their hazy IPA base with a mountain of Nelson Sauvin, Citra, and Sabro hops for a bouquet of tropical fruit and white wine notes leading to cool grape swirls with every sip, sweeping up juicy mandarin nuances, golden pineapple, herbs, spices, wood, white wine, bright citrus fruit, lemon peel, mint, and crackery grains flavors along the way. Expect a dry finish that sweeps your taste buds clean.
Great Notion Afterglow
7% ABV
Great Notion tweaked their Afterglow West Coast IPA recipe with crisp backbone from 2-row barley, rice, California Ale Yeast, and loads of dank citrus aroma from Citra and Nelson Sauvin hops used in the boil, whirlpool, and dry hop. It hits the nose with pineapple, lychee, orange, and some dank melon, followed by citrus, pineapple, and some dank melon. This moderate bitter, easy-drinking West Coast IPA is the clear version of Juice Jr.
Great Notion Easy Like Sunday Morning
7.1% ABV
Sunday mornings are a time to relax for many families across the globe. Sunday mornings are easy, calm, and chill. Lionel Ritchie was feeling all these emotions after letting go of the stress from the relationship he was exiting in his song, "Easy Like Sunday Morning." Many song lyrics that are about breakups love to focus on the pain that is briefly mentioned in the first verse, but Lionel Richie, who wrote the lyrics himself, builds up the happy and carefree content in the chorus that truly makes the song. Easy Like Sunday Morning is also a happy place for Great Notion. Easy Like Sunday Morning is their mimosa inspired tart ale with tangerine, Cara Cara orange, and Mosaic hops. We're digging the added berry flavors from the hops.
Great Notion Mango Fluff
8.4% ABV
With a nod to cotton candy flavors, Great Notion brewed this fruited kettle sour with lavish mango puree, creamy vanilla, and cotton candy. Mango Fluff transports you right under the Big Top with mild tropical tartness punctuated with nostalgic cotton candy flavors, and a smooth vanilla lusciousness.
Great Notion Thumb Splitter
4.9% ABV
Thumbsplitter pale ale has all the hop bitterness and crisp mouthfeel of a West Coast IPA, with plenty of citrus and pine. Great Notion starts the process with mashing 2-row barley, Carafoam, and a little flaked rice to keep the body light and crisp. That West Coast bitterness comes from an early addition of Centennial hops in the boil kettle. Mosaic and Simcoe are used later in the boil, and again in the whirlpool to really build up the aromatics. These two hops are used once more in the dry hop of this 4.9 percent slammer.
Great Notion JB DIPA
8.2% ABV
A big brother to Great Notion's Juice Jr., JB DIPA, formerly known as Juice Box, is a West Coast version of a New England-style IPA bursting with pungent American hops, thanks to more than 4 pounds of Mosaic hops per barrel, plus a touch of honey. It's fruity, creamy smooth, with peach, mango, and passionfruit on the nose and mellow bitterness. Expect a hoppy piney bite on the backend.
Great Notion Blueberry Pancakes
9.3% ABV
Great Notion blended their Double Stack imperial breakfast stout aged on whole bean coffee from Mostra Coffee with an extreme maple syrup flavor with their Blueberry Muffin fruited sour made with Oregon blueberries. It's a sweet and sour stout with maple syrup, blueberry, and Mostra coffee.
LINK: Peaks & Pints cooler inventory
---