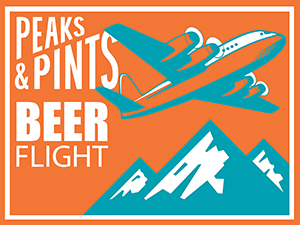 Named for the home of the Greek gods, Olympic National Park reigns as the fifth most visited national park in the country. The park sprawls across several different ecosystems, from the dramatic peaks of the Olympic Mountains to old-growth forests. Some of the world's largest trees ― Sitka spruce, Douglas fir, Western red cedar, and Western hemlock ― grow in the Olympic National Park, including Quinault's big Sitka spruce, which is 191 feet tall and 1,000 years old. Trails lead through mossy forests to stunning, venerable arboreal giants. And keeping a close eye on it all is the Washington's National Park Fund, the official philanthropic partner to the Olympic National Park, as well as Mount Rainier National Park and North Cascade National Park. The organization fills gaps in much-needed funding to enhance visitors' experiences, provide research dollars, rebuild trails, bring in volunteers, improve accessibility, and maintain reasonable park entrance fees. Today, Peaks & Pints dedicates our to-go beer flight to Washington's National Park Fund's Olympic National Park efforts. Until we can revert to our on-premise, crosscut beer flights and donate a percentage of each flight to the Fund, we hope you'll stop by craft beer lodge, grab today's to-go flight, Peaks and Pints Pilot Program: Funding Olympic National Park On The Fly, then donate to the Fund while enjoying the beers. Cheers!
Peaks and Pints Pilot Program: Funding Olympic National Park On The Fly
High Water Campfire Stout
6.5% ABV, 38 IBU
This pitch-black stout is impenetrably dark and tastes of liquid s'mores. That may sound ridiculous, but High Water Brewing didn't overdo the flavor of graham cracker, and the marshmallow is mostly in the nose. As for chocolate? Well, we'd be lying if we said there was no room for chocolate notes in beer. "Flavored" beers should be met with caution, and often they have a polarizing effect on their audience. But there's definite charm in a beer that has you reliving childhood memories of eating marshmallows until your fingers were forever glued together and unrolling that worn flannel sleeping bag so you could fall asleep under the stars.
Western Red Main Line
5.24% ABV
Lumber company owner and homebrewer Denver Smyth went pro in 2017 opening Western Red Brewing with his wife, Marianna in Poulsbo. In the Smyth's other world, a mainline is a heavy cable that is wound up on the drums of the donkey or yarder to pull the logs from where they were cut to where they can be loaded. Western Red's Main Line amber ale isn't heavy. It's a light, clean, flavorful, balanced beer with notes of caramel, biscuit and earthy hops, lively carbonation, and a nice lingering biscuit malt flavor. It's heavier on the malt side, but the dry finish ensures that it's not too sweet or heavy.
Everybody's Mountain Mama Pale Ale
5.6% ABV, 55 IBU
This pale ale is named Mountain Mama in honor of co-founder of Everybody's Brewing, Christine Ellenberger, who graduated from West Virginia University, where she was a white-water rafting guide and kayaker. A true outdoorswoman, her love of snowboarding and rivers brought her to the Northwest, and inspired her husband and co-founder, Doug Ellenberger, to give her the nickname Mountain Mama. "She's the heart and soul behind this brewery, and she deserves a beer named after her. We wanted the tap handle to represent what a strong and amazing woman she is," says Doug. Brewed with Citra and Cascade, with CTZ used for bittering, this pale sports a big, juicy fruit, citrus aroma, and easy drinking due to oats and low bitterness.
Icicle Peak Seeker IPA Series: Tumwater
6.9% ABV, 60 IBU
Icicle Brewing Co. began more than 140 years when founder Oliver Brulottes' family started farming hops in Washington's Yakima Valley. Now, in 2022, the brewery Oliver built in Leavenworth continues to grow with series beer series including his Peak Seeker IPA series. Tumwater is the fifth release in this modern West Coast IPA series. It features Strata, Mosaic, Citra, Simcoe, and Chinook hops for notes and aromas of juicy citrus, tropical fruits, grapefruit, and a hint of pine. Tumwater Mountain is a peak located on the western side of Chelan County, Washington, overlooking the city of Leavenworth.
Old Schoolhouse Between Peaks IPA
7% ABV
Peaks & Pints answered the morning School bell, traveled past 101 mountain peaks, and brewed our new house beer, Between Peaks IPA, at Old Schoolhouse Brewery in Winthrop, Washington. As we approached the town of Winthrop, Pinyon Pines, Bristlecone Pine, and Ponderosa Pine trees were swaying in the wind between the peaks. Between Peaks West Coast-style, old school IPA is aggressively hopped with Simcoe, Simcoe Cryo, Chinook, Cascade Cryo, and HBC 638 hops and bursting with flavors of pine and subtle citrus, loaded with mounds of hops, and balanced with a blend of four different malts. Like those welcoming pine trees, each pint of Between Peaks is like a pine bough swaying across your face.
LINK: Peaks & Pints cooler inventory
---