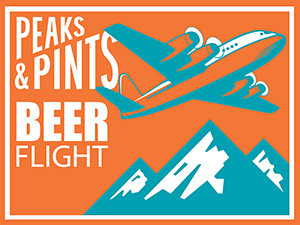 Sabro hops are known among IPA lovers for their fruity citrus character with strong notes of pineapple and tangerine. They may also impart subtle background hints of coconut, stone fruits, grassy mint and woody cedar. Sabro Brand HBC 438 is a relatively new release from the Hop Breeding Company, a joint venture between Yakima Chief Ranches LLC and John I. Haas Inc. Sabro's pedigree is the result of a unique cross-pollination of a female Neomexicanus hop. With a robust brewing performance, Sabro proves to be a strongly expressive hop that translates its flavor incredibly well into beer — especially if its freshly picked, rush to a brewery's tanks with 24 hours and released two weeks later. Today, peaks and Pints presents a to-go flight of beer brewed with fresh Sabro hops. We're calling the flight, Peaks and Pints Pilot Program: Fresh Sabro On the Fly.
Peaks and Pints Pilot Program: Fresh Sabro On the Fly
Crux Sabro Fresh Hop
6.5% ABV, 45 IBU, can
Freshly harvested, Crux Fermentation Project's fully unfiltered expression of the Sabro hop — a unique variety bred from a wild hop native to the mountains of New Mexico — explodes with flavors of coconut, tangerine, and tropical fruit with a hint of cedar and creamy mouthfeel that's anything but bitter.
Wet Coast Soppin' Wet Sabro
5.5% ABV, Campfire Crowler
Wet Coast Brewing Sales Executive "Fresh Paul" delivered the Gig Harbor brewery's Soppin' Wet Sabro fresh hop pale across the Narrows bridge an hour after it was kegged and yelled, "Get your tap log Soppin' Wet Peaks & Pints!" we did. The freshly picked Loftus Ranches Sabro hops create a succulent hoppy ale packed with tasty notes of coconut, tropical fruit, and stone fruit aromas, with hints of cedar and cream.
Fremont Field to Ferment: Centennial & Sabro
6% ABV, 50 IBU, Campfire Crowler and can
Brewed with the 2-row Pale and Munich malts, plus white wheat, with fresh Centennial and Sabro hops, Fremont Brewing's Field to Ferment: Centennial & Sabro pale ale is one of the best fresh hops so far this season. It opens up with Sabro's tropical characteristics, and then ends with piney Centennial.
---