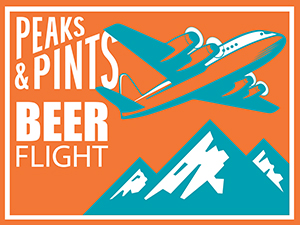 For the sixth consecutive September, Peaks and Pints is throwing a month-long autumn beer party marrying two popular seasonal beer styles on draft — fresh hops and Oktoberfest lagers — this year naming it, "Fresh Hoptoberfest For Days" as we also include a monthlong calendar of regional fresh hop and Oktoberfest events. In September 2017, in keeping with our multi-rooted sensibilities, Peaks and Pints hosted "The Hunt For Fresh Hoptoberfest," tapping fresh hop and Oktoberfest beers daily. Crowds discovered bright, hop-hazy fresh-hop beers, just hours from field to kettle and mere days from the fermenter to their glass AND drank to their health with clean, hearty Oktoberfest-style lagers from Germany and nearby. Peaks & Pints hosted "Son of Fresh Hoptoberfest" in 2018, followed by "Rise of Fresh Hoptoberfest" in 2019, "Behind Fresh Hoptoberfest" in 2020, and Bride of Fresh Hoptoberfest" last year. In celebration of Fresh Hoptoberfest For Days, Peaks & Pints suggests after you have a couple pints that you take the first round of fresh hops and Oktoberfest beers home with today's to-go flight, Peaks and Pints Pilot Program: Fresh Hoptoberfest For Days Beer Flight.
Peaks and Pints Pilot Program: Fresh Hoptoberfest For Days Beer Flight
Breakside Oktoberfest
5.2% ABV
Breakside Brewery's Oktoberfest is a contemporary German festbier with an emphasis on toasty, sweet Vienna malt and floral German hops. It hits the nose with fresh bread dough yeastiness followed by a Germanic, controlled bitterness with a well-structured malt base.
Fort George Half Liter Festbier
5.6% ABV
The identifying characteristic of a festbier is you can pound many a liter. The identifying characteristic of a Fort George Brewery beer is that it contains hops. The identifying characteristic of a Stoup Brewing beer is that it is delicious. Combine these three dominant beer traits and you get Half Liter — a pleasantly earthy, crisply carbonated, reassuringly toasty festbier brewed by Fort George and Stoup Brewing that you can pound many a liter.
Urban Family Stratosphere
6.1% ABV
Urban Family Brewing's Stratosphere fresh hop hazy IPA is brewed with 400 pounds of fresh strata hops from Crosby Farms. After fermentation using a thiolized yeast strain, Urban Family double dry hops it with some of Crosby Farm's strata from last season and a little Nelson Sauvin. The fresh hops combined with the dry hops bring dank flavors of strawberry, passion fruit, and white wine.
Matchless Zappa Fresh
6.4% ABV
Matchless Brewing brewed this new fresh hop hazy IPA with Mosaic and Idaho 7 hops then dry-hopped with fresh CLS Farms Zappa hops for a jelly roll gum drop of tropical fruit, holiday spice, and a hint of menthol.
Ecliptic Altair Fresh Hop IPA
6.5% ABV
Ecliptic Brewing's Altair Fresh Hop IPA changed this year; it's now as an IPA packaged in a 16-ounce can, versus a 12-ounce can pale ale in years prior. Altair is brewed with Idaho 7 and Centennial hops, with a fresh hop addition of ADHA 218, coming from Roy Farms. It's on the meltier side of fresh hops.
Ravenna Wet Season: Strata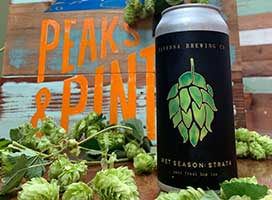 6.5% ABV
This Ravenna Brewing Wet Season fresh hop series beer lands in a Strata hop field. Wet-hopped on brew day with more than 25 pounds per barrel of freshly picked Strata hops, the aroma jumps out of the glass with big notes of melon, berry, mango, and that unmistakable "fresh off the bine" smell. Further dry-hopping with more Strata reinforces and adds depth to the medium-bodied, low bitterness experience.
Fort George Fresh Hop IPA
6.7% ABV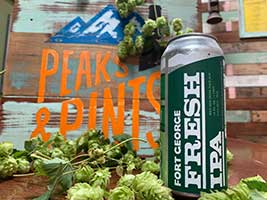 This year, Fort George Brewery's Fresh Hop IPA is brewed with 2000 pounds of Indie Hop's first-ever harvest of Luminosa hops for a little piney bitterness to offset the snappy sweet candy hop flavors.
LINK: Peaks & Pints cooler inventory
---