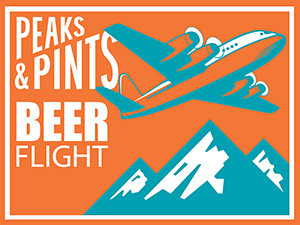 Hop Breeding Company of Yakima, Washington released Citra in 2007. It wasn't until Sierra Nevada Brewing Co. dry-hopped its Torpedo IPA two years later that the hop turned heads. Citra Brand HBC 394, as its officially known, is comprised of Hallertau Mittelfrüh, US Tettnang, Brewer's Gold and East Kent Golding with a fairly high alpha acid and total oil contents, plus a low percentage of co-humulone for bittering. Bittering is cool and all, but Citra's organoleptic profile and chemical composition lend themselves overwhelmingly to aromatic and flavor additions of citrus and tropical fruits. Fresh Citra hops impart delicate flavors of lemon, lime, and grapefruit along with earthy, spicy notes, which makes up our to-go beer flight today, Peaks and Pints Pilot Program: Fresh Citra on the Fly.
Peaks and Pints Pilot Program: Fresh Citra on the Fly
Old Stove Citra Fresh Hop Hazy Pale
6% ABV
Old Stove Brewing brought back their gold medal winning Hazy Fresh Hop Pale with loads of Citra picked fresh from Perrault Farms in Toppenish, Washington. Brewed with Two-row, Marris Otter, flaked oats, Chit malt and 100 percent Citra hops, this hazy pale offers peach and guava on the nose, followed by notes of citrus, tropical fruit, plus low bitterness.
Wander Fresh Cassette IPA
6% ABV
Straight off its "Best In Show" honors at last year's Fresh Hop Ale Fest in Yakima, Wander Brewing's Fresh Cassette IPA offers fresh wet Citra cones from Cornerstone Ranches. The hazy IPA brings layers of candied tangerine, green melon, and tropical danky tang.
Bale Breaker Citra Slicker Wet Hop IPA
6.2% ABV, 70 IBU
This is the sixth release of Bale Breaker Brewing's award-winning Citra Slicker, a collaboration with Cloudburst Brewing. Heavily dry-hopped yet light in color and body, this beer is all about these fresh, farm-grown Citra hops. Expect all the citrus with hoppy bitterness and a clean finish.
Seapine Fresh Hop Citra IPA
6.5% ABV
The Citra hop variety stands on its own in this single fresh hop IPA. The name says it all with tons of lemon, orange, tangerine and lime in both flavor and aroma. For the fresh hopped version of Seapine Brewing's Citra IPA they packed in 6.66 pounds per barrel of fresh Citra hops picked the morning of brew day further amplifying its aroma and flavor without overwhelming bitterness or heat.
Fort George Fields of Green (Wet Hopped)
7.6% ABV
Fort George Brewery's evolving series is, "an exploration of hop-perceptions, pushing the limits of your lupulin receptors. Each batch is limited and brewed exclusively for the Pacific Northwest. Once a year we are able to brew a wet hop version." For 2020, the Astoria brewery chose fresh Citra hops from Coleman Agriculture. It's dank AF with juicy, fragrant, slightly bitter grass and subtle tropical notes.
Reuben's Fresh Hop Double Crush
8% ABV, 60 IBU
Reuben's Brews Fresh Hop Double Crush Imperial Hazy IPA is brewed with a literal truckload of fresh Citra hops from Perrault Farms in the Yakima Valley. It's a well-balanced fresh hop with loads of citrus and some nice resinous character to the aroma and flavor profile. In other words, expect sweet juicy dankess.
---