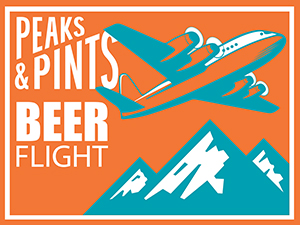 During the days when serfs clapped coconuts behind knights, Belgian lambics were the bomb, exposed to the barnyard bacteria and wild yeasts. Fermented by several yeasts and bacteria, aged for up to three years and often a blend of batches and years, this complex ale exhibits fruit flavor as well as tart, acidic, earthy and barnyard-like traits. In the case of fruit lambics, whole fruits are traditionally added after spontaneous fermentation has started. Once the fruit is added, the beer is subjected to additional maturation before bottling. Malt and hop characters are generally low to allow the fruit to consume the palate. The catalog of lambic flavors is vast. If you run across a kriek, you're about to drink a lambic with cherries. Peach is actually "peches" in the lambic world. Gueuze is a blend of young and old aged lambics, with a secondary fermentation life. Framboise pops with raspberry. It's this last flavor that sits on Peaks & Pints' mind — and most likely tongue later tonight. Swing by Peaks today and take home a flight of framboise we call Peaks and Pints Pilot Program: Framboise On the Fly.
Peaks and Pints Pilot Program: Framboise On the Fly
Lindemans Framboise
2.5% ABV, 12 IBU
For those that love tart sweets, Lindemans has you covered with their Framboise. This raspberry lambic pours bright red and offers more fizz than froth. This super sweet beer also offers an amazing raspberry aroma. There is a sugary sweet here that overpowers the inherit sourness of a good lambic. Sounds like a bad thing, right? Put it in your mouth and see if you feel the same way.
Off Color Staveyard Framboise
7.5% ABV, 15 IBU
Off Color Brewing's framboise is actually their oud bruin — a blend of batch lactobacillus soured, malty young ale and biere de garde aged in neutral oak barrels for 50 weeks — re-fermented with a healthy dose of raspberries. The blending and fruiting of this beer creates numerous layers of complexity: Fruit tones from the red raspberry addition play off of the cherry oxidation and oak tannin structure from an extended barrel aged beer component, while the fresh beer in the blend contributes a touch of acidity and integrates malty sweetness. It's more of a fruit beer than lambic with a punch of sweetness balanced by a horsey funk and a wisp of wood tannins.
Alesong Framboise
7.4% ABV
Alesong Brewing & Blending's Framboise is a sour ale aged in French oak barrels with raspberries from Stahlbush Island Farms in Corvallis. The lambic begins its life as a blend of barrel-aged golden sour beer that is then conditioned on Oregon raspberries, imparting a beautiful magenta color. Jammy fruit aromas give way to a tart and refreshing beer that finishes crisp and dry.
Cascade Framboise Northwest
7.9% ABV
Described as a Northwest-style interpretation of the traditional raspberry ales of the old world, Cascade Brewing & Blending's framboise is a blend of sour blond ales aged in oak wine barrels for up to two years with locally grown raspberries. Clean, tart and packed with fresh fruit flavor, this ruby red sour beer blend celebrates the bountiful berry farms of the Pacific Northwest.
---