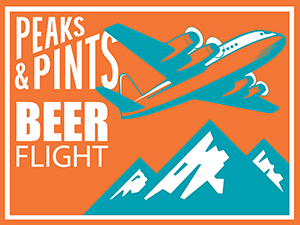 Mardi Gras, Fat Tuesday, Shrove Tuesday: The day before Ash Wednesday goes by multiple names and is celebrated with different foods around the world. The common thread is that rich foods play an important role as Christians would historically attempt to exhaust their supplies of animal products, like butter and eggs, before those foods became forbidden during the 40-day Lenten fast. In Louisiana, the traditional Mardi Gras, or Fat Tuesday, sweet is the king cake, covered in icing and decorated, commonly, with purple, green, and gold sugars. Fat Tuesday is not complete without flavorful Creole dishes — think rich roux, spicy andouille and fresh gulf shrimp. This vibrant cuisine is like no other, with a mix of Spanish, French, Portuguese, African and Southern influences. Since today is Fat Tuesday, Peaks & Pints created this to-go flight of beers that pair with food consumed during Mardi Gras. Stop by our craft beer and cider lodge and grab Peaks and Pints Pilot Program: Fat Tuesday Beer Flight.
Peaks and Pints Pilot Program: Fat Tuesday Beer Flight
de Garde Vin Lee
7.4% ABV
Peaks and Pints' flagship sandwich, The Orleans, is a twist on a New Orleans' muffuletta, which is a twist on an Italian sub. Our hearty sandwich is served on a soft, herb French roll and liberally filled with ham, pepperoni, salami and melted provolone. The ingredient that really sets this sandwich apart is the Kalamata/green and black olive tapenade. Beers are soured by introducing acidifying bacteria (Lactobacillus and Pediococcus being the most common) to fermenting beer. Wild beer is generally used to describe any beer that displays the earthy characteristics of Brettanomyces yeast strains regardless of whether the beer is a light golden ale or a strong dark stout. Often these styles receive all three of the bacteria to blend a funky, sour character that cause beer geeks to freak out. A sour beer will play up the tartness from the olives and cut the fattiness of the meats. de Garde Brewing's Vin Lee is a spontaneous red ale with Syrah grapes aged in oak barrels for four years for a caramel, grape, funk, lemon, oak, and tannins nose, followed by wine grapes up front with some pleasant bitter barrel, lemon, oak, tannins, and plum with a lingering tartness.
Structures Forest King
5.3% ABV
A good brown ale plays backup to the meat, seasonings, and spice of red beans & rice without overpowering it. English Brown ales are copper to dark brown, medium-bodied beers. They offer mild maltiness with caramel, biscuity and sometimes toasted qualities and commonly range from 4.2 to 6 percent ABV. Style aficionados distinguish between the northern English brown with its light nutty accents and the southern English version that's a little darker and sweeter. Structures Brewing's traditional English pub style brown ale falls more into the southern style with a dry and ashy nose. Flavor follows the same lead as the aroma but offers more depth and complexity with a rounder nutty undercurrent and some dry bitter bakers chocolate. The Forest Kings won't overshadow the dish, and the nuttiness and bready texture of a brown ale pairs with the similar flavor and consistency of the beans.
Oakshire Visit Munich
8.1% ABV
Spicy, stew-like gumbo can be filled with shellfish, sausage, or chicken, but most versions have rice, okra, and other vegetables. Since it is a bold and heavy dish, pair it with a doppelbock to stand up to the weight of the dish. Doppelbock is a German beer style that was first brewed in Munich by Paulaner monks. As the name might suggest — doppel translates as double — this style developed as a slightly stronger version of traditional German bock style. Oakshire Brewing's version, Visit Munich, is strong, dark German-style lager cold-conditioned near-freezing temperatures for four months for an incredible sweet malt profile and a deep amber color.
Ladd & Lass The Pale Project
6.1% ABV
Shrimp & Grits is a simple sounding dish with complex yet light flavors. While some versions are spicier than others, the creamy grits and delicate shrimp need refreshing pale ale as to not overpower the dish and the hops compliment any additional spices. A collaboration between Ladd & Lass Brewing's three homebrew-loving friends — Shawn Miller, Tony Ochsner (co-owner of Micro Homebrew, 2021 Homebrew Shop of the Year), and L&L brewer Nick Ladd. All three cut their craft teeth on early 2000s pale ale, but also appreciate today's more hop-forward versions. This is an ongoing project that seeks to find the happy balance between traditional and contemporary takes on pale ale. The Pale Project is brewed in honor of Miller, L&L's biggest supporter and loudest advocate, who lost his battle with cancer. A portion of proceeds from sales of this beer will be donated to the Cascadia College Foundation to help fund the Shawn Miller Memorial Scholarship for First Generation Students.
Wayfinder Crusher Destroyer
7.2% ABV
Jambalaya offers a plethora of spices — oregano, cayenne, paprika, onion powder, black pepper and white pepper with the dish's most pivotal ingredient andouille sausage, which is seasoned with Cajun spices and smoked. Intensify the sausage's smokiness with a smoked beer. Wayfinder Beer's Crusher Destroyer smoked bock is a richly imbued rauchbier with deep caramel malts and beechwood smoked Weyermann malt. Wayfinder uses an all-but-forgotten brewing process called double decoction, where a portion of the mash is removed, boiled with very high heat, then added back to the main mash to create intensely malty flavors. It'll send taste buds back in time to taste the origins of modern beer.
Fort George Matryoshka (2023) with Mexican Vanilla Bean
12.2% ABV
Bananas Foster, a popular Mardi Gras dessert where bananas are smothered in a rich sauce of butter, brown sugar, dark rum, and banana liquor, set on fire then poured over vanilla ice cream. A vanilla-infused stout is an excellent way to play up the sweetness of this dish by pulling the flavors of the vanilla ice cream forward and pairing perfectly with the brown sugar in the sauce. The Russian imperial stout style was inspired by British brewers in the 1800s to win over the Russian Czar. High alcohol content, plenty of malt, low carbonation, and lots of roasted and chocolate flavors characterize these beers. They can have none to some to a ton of hops, such as Fort George Brewery's Russian imperial stout, From Astoria With Love. This stout's barrel-aged version is Matryoshka, this year aged in barrels from Westward Whiskey and IJW Whiskey Company. Much like wooden nesting dolls, the Matryoshka series releases in many variations, each one more intricate than the last, including Mexican Vanilla Bean for moderately sweet, floral vanilla and chocolate candy notes.
LINK: Peaks & Pints cooler inventory
---