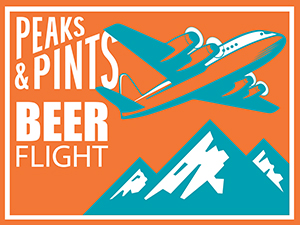 Brewmaster Dany Prignon creates unique farmhouse ales with herbs, fruits, and spices. Since starting Brasserie Fantôme with his father in 1988, Prignon has put the tiny town of Soy, Belgium on the map for beer geeks world-wide. The brewery is a pilgrimage for overseas brewers, and quite a few of the newer craft operations in Belgium, despite Fantôme's relative anonymity in his home country, which might be due to Fantôme exporting more than 90 percent of what it produces to other countries. A cartoon representation of a ghost hangs on the outside of Fantôme's farmhouse building as well as being affixed to all the bottles, the symbol and name of the brewery deriving from a legend in nearby La Roche-en-Ardenne in which a dead countess is said to walk amidst the ruins of the town's castle. Today, Peaks & Pints suggests a mini, to-go flight of Fantôme saisons — a flight we call Peaks and Pints Pilot Program: Fantôme Beer Flight.
Peaks and Pints Pilot Program: Fantôme Beer Flight
Fantôme Red Spiritus Autumn Project
6% ABV
Fantôme Red Spiritus Automn' Project is a saison that seeks to evoke those colorful autumn days brought by the eclectic plant kingdom. It pours a dark red color with citrus, light herbal, and some fruit on the nose. On the tongue, expect a little toasty maltiness, subtle mixed stone fruit, red currant, lots of herbs, and earthiness. Although the spices dominate, there is also a slight sweetness and fruity nuances.
Fantôme Dark Spiritus Winter Project
6% ABV
This dark saison is simultaneously drinkable and rich. It pours slightly reddish-brown a with deep bready, yeasty note and a little herbal element on the nose. On the tongue, it begins sweet, then the dry elements kick in, before the bitterness cuts across the palate. Expect notes of black pepper, malt, and a touch of clove.
LINK: Peaks & Pints cooler inventory
---