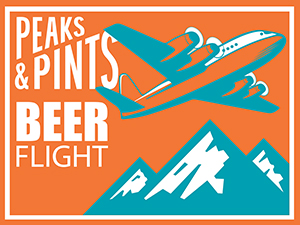 Consider the saison. History did. During the 19th century, Belgian farmers brewed saisons, or "farmhouse ales," using the leftover grains from the fall harvest. In fact, not only did farmers decrease leftover grains (and keep busy during the non-growing months) but also livestock ate the spent grain feed, and seasonal workers drank during the hot summer months to stay hydrated. That's what you call a win-win. And back then, saisons only clocked in at about 3.5 percent ABV, making it a sessionable, hydrating beer during warm weather. The reason for so much of the funky yeast commonly found in saisons? Farmers would re-pitch the same yeast each year to save money, which led to some multi-strain fermentations. Today, the best saisons are refreshing, funky, and unique. OK, it may not be officially summer yet, but it's warm outside and Peaks & Pints has a plethora of fancy saisons in the house. Stop by and grab Peaks and Pints Pilot Program: Fancy Saisons On The Fly.
Peaks and Pints Pilot Program: Fancy Saisons On The Fly
E9 Balaton Farmhouse
6.8% ABV
Tacoma's House of Saison, E9 Brewing, grabbed Belgian pilsner malt, Belgian pale malt, wheat, water, and hop, and then fermented the ingredients stainless steel tanks. Next, Head Brewer Shane Johns transferred the young saison to oak barrels with added Brettanomyces. Last, E9 blended barrel and aged the bend on whole fruit Balaton cherries grown in the Yakima Valley. The pink-ish saison ends up with a slight funk and a brilliant showcase of cherry.
Fair Isle Ami Jean
7.1% ABV
Geoffrey Barker and Andrew Pogue met as members of the North Seattle Home Brew Club. They both love saisons and sours. They traveled to mixed-fermentation guru Jester King in Austin, Texas, where they added to their friendship circle. With the help of Jester King, Barker and Pogue opened Fair Isle Brewing in January 2020 focusing on mixed-culture and wild beers, such as saisons, grisettes, bier de garde, farmhouse and American-style sour beers. Ami Jean joins Rachelle and Ana as one of Fair Isle's family of stainless steel fermented saisons with fruit. In this case: apricots, peaches and pluots, grown by Collins Family Orchards in Selah, Washington, plus Skagit Valley Malting goods and Yakima Valley Hallertau Mittlefrüh, bring notes of stone fruits, strawberries, and a mote of pith bitterness.
Bale Breaker Melodreamatic
7.8% ABV
Bale Breaker Brewing launched their barrel-aged beer program out of our taproom in late 2019 but took all of 2020 to experiment and decide the direction of the program. This year, they refined the program with just two release dates: a spring release, focusing on the wine barrel-aged beers that celebrate the grapes grown in their Yakima Valley backyard, and a fall release that will focus on the whiskey barrel-aged beers. As part of the spring release, the Belgian-style saison Melodreamatic boasts a secondary fermentation with real peach and apricot puree, then aged in Côte Bonneville red wine barrels with Brettanomyces before bottle conditioning. Expect aromas of stone fruit and cherry with balanced acidity.
Logsdon Two Rivers Noir
8.5% ABV
Logsdon Farmhouse Ales' Two Rivers Noir is a blend of 55 percent Saison with Pinot Noir from Dominio IV, 20 percent Saison with Pinot Noir from Scappoose, 4 percent Foeder-aged Saison with house mixed culture, and 19 percent Young Saison with Brettanomyces aged with nearly two pounds of Pinot Noir grapes from the Willamette Valley. Expect a blush hued, luscious saison with aromas and flavors of currents, red berries, rose petals, and a hint of black pepper.
LINK: Peaks & Pints cooler inventory
---