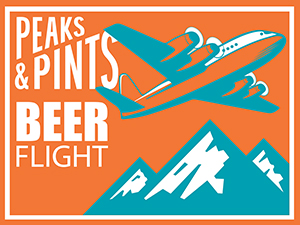 Most Sundays, Peaks and Pints posts our Fancy Pants Sunday column where we highlight complex, pricey, well fancy, craft beer. You're probably thinking to yourselves, "Does the world really need Peaks and Pints' Fancy Pants Sunday?" Our research tells us that the average American consumer loves — nay, yearns — for the next level in fancy craft beer. And here is the thing: When you're out there on the porch, alone, watching the dog run around the yard, eating your bread and basil and feeling the effects of that snifter full of fancy craft beers, it does not matter how much you paid for the beer; it does not matter that it is bypassed your beer cellar. Right then, for that moment, you have never loved anything more. Today's Peaks Pints to-go beer flight are a few highlights from past Fancy Pants columns, a beer flight we call Peaks and Pints Pilot Program: Fancy Pants On The Fly.
Peaks and Pints Pilot Program: Fancy Pants On The Fly
Van Honsebrouck Kasteel De Cuvée du Chateau
11% ABV
After 10 years of maturation, bottles of Van Honsebrouck Kasteel Donker started to acquire the taste of Madeira and port. Brewmaster Hans aimed to achieve the same effect using a standard brewing process without the time it would take to mature. And thus the Cuvée du Château (11%) saw the light — although it's a dark beer with a deep brown color. If poured correctly it will yield a voluptuous frothy head, which has almost the color of mocha. As previously mentioned, Cuvée is a lightly madedairised beer (slightly reminiscent of Madeira) with touches of both caramelized and roast malt, with a subtly bitter taste of the best English hops in the finish.
Jolly Pumpkin Forgotten Tales of the Last Gypsy Series II, Volume I
7% ABV, 45 IBU
Jolly Pumpkin Forgotten Tales of the Last Gypsy Series II, Volume I is brewed with grains of beech and cherry smoked malts, three different hops, preserved lemons, lime peel, bourbon smoked sugar and Kiawe smoked sea salt, three batches of separate sizes were brewed and placed in Jolly Pumpkin's oak foeders for eight, 13, and 15 months. Even though they were blended together before packaging, the blend resulted in one beer with two distinct personalities — an earthy and smoky delight, and a more salt forward lemony goodness with hints of vanilla, bubblegum, funk and oak dancing together, finishing with a mild citrus bite and light acidity.
Against The Grain 70K
13% ABV, 48 IBU
Against the Grain's bottles are full of attitude that jumps out at you on the shelf. Located in a former train station on Main Street in Louisville, Kentucky, this rapidly expanding brewery and restaurant brews on a 15-barrel system, in addition to brewing at Pub Dog Brewery in Maryland. It's 70K is essentially Against The Grain Brewery's 35K Milk Stout recipe doubled: double roasty, double chocolaty, double creamy, double delicious. Then, the Kentucky brewery aged it in Angel's Envy Bourbon barrels for notes of rich molasses, brown sugar, bourbon, roasted malts, dark sugars, oak and coffee with a bitter finish.
LINK: Fancy Pants Sunday columns
---