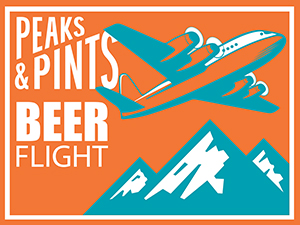 It snowed! And although the totals in Tacoma, at least, weren't much, the weather is a good reminder that it's Peaks and Pints Escape To Stout Mountain, a February Stout Month celebration with all the things you'd expect: powerlifters with snarky comments, scads of barrel aged stouts to warm you; banished porters trying to sneak on draft; in-jokes for those who have actually climbed Stout Mountain near Salem; and lots of frenetic action in lieu of supply chain co-operation. In other words: A kick ass time! The Tacoma Proctor District craft beer lodge, bottle shop and restaurant has tapped six stouts on our Western cedar tap log through February for in-house enjoyment and Campfire Crowler carry outs. And since it snowed last night, and tonight will be another cold one, we're featuring another round of stout bottles for our daily to-go flight. Stop by Peaks & Pints and grab Peaks and Pints Pilot Program: Escape To Stout Mountain.
Peaks and Pints Pilot Program: Escape To Stout Mountain
7 Seas Barrel Aged Imperial Stout (2021)
9.7% ABV
Aged for 12 months in Pursuit Distilling Co. Whiskey barrels, 7 Seas Brewing's Barrel Aged Imperial Stout (2021) pours a silk black with a full body. Brewed with domestic and UK Pale malt, roasted barley, flaked oats, Munch, Special B Crystal, and Black malt — balanced with Nugget, Magnum, and Cascade hops, expect notes of sweet whiskey, vanilla, charred oak, dark chocolate, and roasted barley.
Skookum Barrel Aged Breakfast Stout
11% ABV, 50 IBU
Breakfast stouts didn't receive their name because it is an essential part of a balanced breakfast, but rather it is made from brewed coffees and flaked oats, which themselves are classic breakfast elements. Skookum Brewery brewed an oatmeal milk stout, aged it in Maker's Mark barrels for months 13 months and finished it on whole vanilla beans and cold pressed coffee. Sweet malt hits the nose with a fair amount of barrel notes ending with a pleasant coffee aspect. The flavor leans toward sweet coffee with a moderate barrel influence — think brown cow cocktail. It finishes with a mild boozy character.
Single Hill Overstory Dessert Reserve
11.1%, 40 IBU
In August 2016, Ty Paxton and Zach Turner opened Single Hill Brewing in an old JC Penney Tire Center in downtown Yakima. Paxton and Turner's first meeting at a cider pressing party that a mutual friend was hosting in 2013. Three years later, over pints at Bale Breaking Brewing, the two hatch the idea for a community-based brewery in a town dear to their hearts. Their Overstory Dessert Reserve mixes the classic, decadent dessert flavors of hazelnut, vanilla, and chocolate with their rich and mature blend of barrel-aged imperial stout.
Modern Times Soft Swerve Chocolate Mint
14.1% ABV
Modern Times Beer's special projects humans are proud of their Soft Swerve series, inspired by all manners of frozen confection. This iteration is built on a Voltron formation of bourbon barrel-aged imperial stouts: Modem Tones, Monsters' Park, and Dragon Mask. The resulting blend is extremely tasty and is made even more so via the generous additions of Dominican cocoa nibs, Papua New Guinea Planifolia vanilla, and mint. Pro Tip: Modern Times pulled out of Washington state so this might be the last time you can grab their Soft Swerve series locally.
Old Stove Quiet Eon
14.5% ABV, 68 IBU
The EON QuietClean upright vacuum cleaner is engineered with professional-grade components to meet the demands of commercial cleaning. It sucks. Old Stove Brewing's 2021 Quiet Eon Bourbon Barrel Aged Imperial Stout doesn't suck. This barrel-aged stout was originally brewed during the early shut-down months of the pandemic in 2020. After resting for 20 months in barrels this beautifully smooth stout has notes of burnt sugar, roasty chocolate, and oaky goodness.
LINK: Peaks & Pints cooler inventory
---