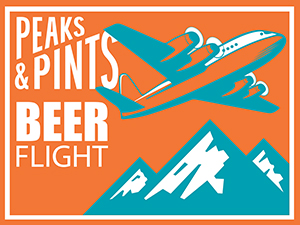 In 2016, MIT graduates and friends Peter Oates and Ricardo Petroni opened Equilibrium Brewery in Middletown, New York. The two professional scientists became obsessed with New England hazy IPAs burning a path to Hill Farmstead Brewery and The Alchemist. Finally purchasing a homebrewing kit, Oats and Petroni strived to create scientifically balanced beer, which they did before brewing their first double IPA, named EQM, in 2015. It didn't hurt they were trained in water chemistry. Four years later, lines 300 deep stood before their door waiting for their latest release. Since then, they opened a second site in Middletown to brew more cult-classic hazy beers, as well as farmhouse and dark beers. Today, Peaks & Pints presents a to-go flight of Equilibrium's latest round of beers to arrive at our craft beer lodge, bottle shop and restaurant in Tacoma's Proctor District. Stop by and grab Peaks and Pints Pilot Program: Equilibrium Big Beers On The Fly.
Peaks and Pints Pilot Program: Equilibrium Big Beers On The Fly
Equilibrium Emperor's Marshmelatonin
11% ABV
After boiling up a massive stout, Equilibrium used a 50/50 blend of toasted and raw biodynamic coconut before a big dose of marshmallows. Emperor's Marshmalotonin pours a viscous jet black with balanced aromas and flavors of Hershey syrup, coconut macaroons, and vanilla frosting homogeneously lead into a decadent chocolate finish laced with coconut slicks.=
Equilibrium Almond Pop Batch 2
11% ABV
Equilibrium starts with their EQ base stout adding a massive amount of slivered almonds, which were toasted in house at Equilibrium Bonfire. To round out the flavors, they then added marshmallows, Madagascar vanilla, cake mix, and lactose. Almond Pop pours a viscous pitch black with a tan head followed by toasted almond ice-cream pop and candy birthday cake flavor coating the tongue with the balance of nutty meets sweet, meets creamy, meets decadence.
Equilibrium Peanut Butter Swirl Bar
11% ABV
Equilibrium grabbed their base stout used for Almond Pop and added peanuts, cacao nibs, cake mix, Reese's Peanut Butter Cups and a touch of lactose. Peanut Butter Swirl Bar pours pitch black releasing notes of peanut butter cup, chocolate chips, and Skippy Peanut Butter. Flavors of gooey chocolate brownie topped with excessive amounts of crushed Reese's Peanut Butter Cups morph into a cake batter like finish. It has a chewy mouthfeel wrapped up with a creamy decadent finish.
Equilibrium Einstein's Yellow Cake
8.5% ABV
To celebrate Energy Evolution Day, Equilibrium concocted a dessert double IPA they think Einstein would have loved — filled with nuclear levels of yummy goodness strong enough to convert any appetite into pure energy. Einstein's Yellow Cake starts off with an MC² base before being conditioned on marshmallows, toasted coconut, and orange zest. Aromas of orange creamsicle and coconut fluff lead into flavors of tropical citrus, frosted cake, orange sherbet, coconut candy and their EQjuice forward finish.
Equilibrium Uncorked
8.5% ABV
Uncorked hazy double IPA begins with a grain bill loaded with wheat and oats, plus and uses hand selected 2021 Nelson hops. To compliment the wine notes in this hop, Equilibrium let this beer condition on Sauvignon Blanc juice. Uncorked pours a creamy yellow releasing notes and flavors of passionfruit, honey dew, lime, green apple, and gooseberry.
LINK: Peaks & Pints cooler inventory
---