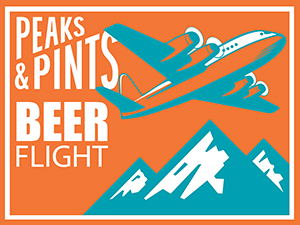 In 2016, MIT graduates and friends Peter Oates and Ricardo Petroni opened Equilibrium Brewery in Middletown, New York. The two professional scientists became obsessed with New England hazy IPAs burning a path to Hill Farmstead Brewery and The Alchemist. Finally purchasing a homebrewing kit, Oats and Petroni strived to create scientifically balanced beer, which they did before brewing their first double IPA, named EQM, in 2015. It didn't hurt they were trained in water chemistry. Four years later, lines 300 deep stood before their door waiting for their latest release. Since then, they opened a second site in Middletown to brew more cult-classic hazy beers — beers they like to drink. Today, Peaks & Pints presents a to-go flight of Equilibrium beer — a flight we call Peaks and Pints Pilot Program: Equilibrium Beer On The Fly.
Peaks and Pints Pilot Program: Equilibrium Beer On The Fly
Equilibrium Mass X Acceleration
8% ABV
Mass x Acceleration, or Force, is the next in the series following Governing Forces and dC/dt that examines the basic properties of Equilibrium's new hardware. Mass x Acceleration is the first time they blended massive doses of two of their favorite hops: Mosaic and Amarillo. This juicy elixir pours a glowing tangerine color with aromas of dank orange juice with that melon-y EQ juice thing. The taste is orange/mango for days and melon flavored gummy bear juice.
Equilibrium Lab Fluff
8% ABV
A collaboration with Harlan Brewing, this hazy imperial IPA is brewed with Yakima Chief HBC586 for mango goodness, plus a touch of Citra in the whirlpool. They hopped with Citra, Strata, and HBC586 and then put a Harland twist on things by adding a marshmallow Fluff treatment and Lab Fluff was born. It pours electric yellow, with huge frosted tropical notes. Flavors of mango, vanilla frosting, fruit salad in cream, lychee, and guava come together with a creamy push pop like finish.
Equilibrium Juice = Juice
8.5% ABV
Juice = Juice was born when Equilibrium had Great Notion Brewing in the lab to review, axiom, hypothesis, postulate, and proof to derive and fuse Equilibrium's juice tactics together to make a beer bursting with extreme flavor. They used a malt bill of heavy wheat along with a combination of flaked oats and oat malt for the foundation. Next, they whirlpooled heavy with Citra and Idaho 7 and finished it with a big Galaxy dry hop. It hits the nose with pulpy tropical juice. The flavor follows, with a jumbo medley of island fruits, big peach notes, and a touch of dankness.
Equilibrium Dhop39
8.5% ABV
The latest iteration in Equilibrium's dHop series refines the secondary fermentation profile of dHop 38 with an enhanced carbon source and applies the dHop 37 dry hop technique. dHop 39 uses flaked oats and flaked wheat, an Idaho7 and mosaic in the whirlpool, and a huge dry hop of 100 percent Citra. dHop 39 pours an electric yellow, releasing a refined ester profile and bright tropical notes of their signature rainbow melon, peach, mango, and citrus slices with a huge EQ Juice finish and soft mouthfeel.
Equilibrium Hop Wave 5
8.5% ABV
Hop Wave 5 takes one of Equilibrium's favorite Citra and Galaxy double IPAs, dHop5, supersizes the hop charge and adds a touch of lactose. It pours a milky straw yellow releasing pungent aromas of citrus, pineapple, passion fruit, and peach all integrated with a sorbet twist. The taste is a soft and bright creamy tropical flavor that is dangerously drinkable and balanced.
LINK: Peaks & Pints cooler inventory
---