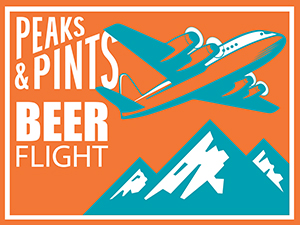 In 2016, MIT graduates and friends Peter Oates and Ricardo Petroni opened Equilibrium Brewery in Middletown, New York. The two professional scientists became obsessed with New England hazy IPAs burning a path to Hill Farmstead Brewery and The Alchemist. Finally purchasing a homebrewing kit, Oats and Petroni strived to create scientifically balanced beer, which they did before brewing their first double IPA, named EQM, in 2015. It didn't hurt they were trained in water chemistry. Four years later, lines 300 deep stood before their door waiting for their latest release. Since then, they opened a second site in Middletown to brew more cult-classic hazy beers — beers they like to drink. Today, Peaks & Pints presents a to-go flight of Equilibrium beer — a flight we call Peaks and Pints Pilot Program: Equilibrium Brewery On The Fly.
Peaks and Pints Pilot Program: Equilibrium Beer Flight
Equilibrium Mmm…Osa
4.8% ABV
Equilibrium grabbed their Photon American pale ale conditioned on freshly zested oranges at a rate of six oranges per barrel. It is everything photon is — soft juicy tropical fruits, hop resins, and a hint of biscuit — with a dominant orange presence.
Equilibrium Energy Equals
8% ABV
Energy Equals is a companion beer to MC². It completes the equation. We start with MC² as a base and incorporate the well-received process we like to refer to as the 'Energy Dry Hop' which gives this beer an intense brightness and flavor. Energy Equals has enhanced flavor characteristics of mango, pineapple, citrus, and apricot. With the new technique in place, we notice a much deeper flavor profile while being extremely bright and lighter in body. It's extremely crushable with our EQ juice finish.
Equilibrium Fluctuation
8.1% ABV
Departures from equilibrium are known as fluctuations. Brewed with 100 percent Citra hops, Equilibrium's Fluctuation double IPA pours a very hazy tangerine color, releasing bright tropical notes of passion fruit, mango, pineapple, and lychee with an undercurrent of sorbet and cream. Fluctuation tastes highly resinous and tropical with an assertive yet soft bitterness. They consider this fluctuation to be perfectly unbalanced.
Equilibrium Pistachio Dream Dessert
11% ABV
Equilibrium's newest imperial stout takes inspiration from a pistachio and pecan crusted layered whipped pie. They start with a creamy base stout and add pistachios, pecans, coconut, marshmallow, and Madagascar vanilla. Soft, creamy, and weighed on the palate, Pistachio Dream Dessert offers pillowy layers of thick fudge and bakers chocolate, an earthy sweet nuttiness paired with scoops of marshmallow fluff and vanilla frosting.
Equilibrium Middletown Mud Pie
11% ABV
After a long boil, Equilibrium conditioned their imperial stout on pecans, cacao nibs, Madagascar vanilla, and a hint of sea salt. Middletown Mud Pie pours like liquid fudge and features a beautiful mocha cap. The chocolate brownie batter nose pairs with flavors of melted milk chocolate fountains, nutty butter pecan, caramel swirl, and frosted black forest cake loaded with homemade frosting.
LINK: Peaks & Pints cooler inventory
---