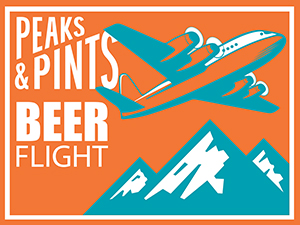 Let's get right to the juicy stuff. Peaks & Pints is talking, of course, about New England-style, or hazy India pale ales. They keep coming and coming with no sign of slowing down. It's predominately what people as for when they approach our Western red cedar tap log. New England Style IPAs are brewed to be juicy and fruit forward, even when there's no fruit in the brewing process. You're getting the aroma and experience of different types of hops as well as the pure magic of brewing beer. The good news — thanks to hazy and juicy there are more IPA drinkers. Today, Peaks & Pints looks a double hazy IPAs. The double IPA (also called the imperial India pale ale or IIPA), has a strong hop profile, yet with balance and complexity from a hearty malt bill that adds strength. The hazy take on the style is intentional. They are often made with additions of wheat and oats and left unfiltered. They can be quite cloudy. As mentioned previously, lots of late addition fruity hops give them tropical and juicy attributes. Stop by Peaks & Pints and grab our to-go flight, Peaks and Pints Pilot Program: December Double Hazies On The Fly.
Peaks and Pints Pilot Program: December Double Hazies On The Fly
Wander Shiny Objects
8% ABV
Wander Brewing's Shiny Objects hazy double IPA is brewed with loads of flaked oats and wheat and one of their favorite hops, Amarillo. It's bright and shiny with aromas and flavors of orange, peach, mild pineapple, ripe melon, and a bit for floral notes.
Trap Door HoliDANK
8.5% ABV
Some people like bud, some people like beer, and some like both. Those who are a connoisseur of both have taken to attributing the term "dank," a term that means pungent, funky, and odoriferous, to both good weed and very hoppy IPAs. Dank means an extremely overpowering odor that can smell like the citrus and pine flavors everyone loves, including Trap Door Brewing out of Vancouver, Washington. Their winter hazy double IPA HoliDANK is dry hopped with classic dank hops Mosaic, Simcoe, Centennial, and Columbus for all the Piney, floral dankness.
Structures 2FAST2FASHIONable
8.6% ABV
Six years ago, Structures Brewing opened in downtown, Bellingham and has gone on to be experts in brewing hazy IPAs, pale ales, and other styles. Fast Fashion is currently operating as a nano-brewery out of The Masonry restaurant in Seattle's Fremont neighborhood. Together they brewed 2FAST2FASHIONable double IPA double dry hopped with Galaxy, Nelson, and Mosaic. The result is a creamy double with grapefruit pith, juicy citrus, and some dankness.
Single Hill Tectonic Chronic
8.9% ABV
Citra, Mosaic, and Simcoe hops belong together — if for no other reason than they were bred by the same person, Jason Perrault. A fourth generation hop grower, Perrault started his education at Washington State University, where he earned a Bachelor of Science degree in Agricultural Economics, followed by a Master of Science in Plant Breeding and Genetics. In the early 2000s, he birthed Citra, Mosaic and Simcoe as the general manager of Perrault Farms, where he is the CEO today. Perrault went on to be the CEO of Yakima Chief Ranches where he continues to develop new hop varieties. Back to the three hops; Simcoe is one of the most intense American hops and is often used in conjunction with its brethren Citra to soften Simcoe's potentially overwhelming character of dank pine and woody/earthiness. Citra it is full of (shockingly!) citrus, as well as peach, lychee, and tropical fruit character. Perrault was searching for a higher yielding Simcoe-like variety that led to Mosaic and its tropical, berry (blueberry), and slightly piney aromas and flavors. Single Hill Brewing brewed Tectonic Chronic hazy double IPA with the three hops and it's everything it's suppose to be.
Beer Zombies 21 Beers of Bad Luck
9.1% ABV
Beer Zombies Brewing digs the American punk rock band Bayside from the Bayside, Queens neighborhood of New York City, which formed in 2000 by lead vocalist Anthony Raneri. Beer Zombies invited the band to brew up a collaboration to celebrate the end of their tour "21 Years Of Really Bad Luck." The massive DDH Hazy DIPA is brewed with Citra, Mouteka, and Galaxy hops for a big blast of fresh citrus, over ripe guava, a whispering of stone fruit and a back end of bright grapefruit.
LINK: Peaks & Pints cooler
---