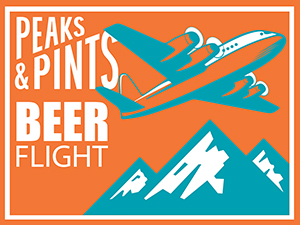 Dank. Merriam-Webster's "disagreeably damp, musty, and typically cold" definition, perhaps describing your basement, does not apply here — and by here we mean our to-go beer flight, Peaks and Pints Pilot Program: Dank On The Fly. "Dank" for years has been slang for potent, highly aromatic buds of cannabis sativa. Its cousin, humulus lupulus (the hop plant), can exhibit similar traits – in aroma, but obviously not in psychoactive effects. Hops are a resinous, sticky green flower. They contain lupulin, a sticky substance that contains essential oils, bitter acids and resins, and that are released when boiled. Without them, beers would be overwhelmingly sweet (because of the malts), so hops add a balance of aromatic herbs and spice. Different varieties of hops have different flavors, such as citrus, pine, floral, fruit and others. They will impart different flavors into the finished product and brewers will create new brews using unique combinations. For today's flight, Peaks and Pints centers on beer that are dank — producing with assertive resiny, earthy pungency and notes of pine tree, stone fruit, plus bitterness.
Peaks and Pints Pilot Program: Dank On The Fly
Everybody's The Cryo IPA
6.9% ABV, 80 IBU
Remember when Austin Powers came out of   the cryogenic process, which took a while to comp … compl… complete, the International Man of Mystery underwent laser cutting, the warm liquid goo phase, reanimation, cleansing and evacuation — all in that order. That last one just took a long time. Yakima Chief Hop Union's innovative cryogenic process doesn't take as long, and there isn't a warm liquid goo phase, but the results are delicious craft beers. Using YCH Hops' innovative cryogenic process, lupulin glands are separated from the hop cone, leaving behind a "hop powder" containing all the flavor and aroma oils. "Cryo" hops showcase pronounced juicy and resinous flavors with greatly reduced grassy characteristics. Everybody's Brewing's award-winning The Cryo IPA is an experimental IPA using cryogenic technology. Through a cryogenic separation process, pure lupulin powder is extracted from hops leaving behind a "hop powder" that contains the desired flavor. Enjoy the huge dank and earthy aroma and juicy flavor, with a bit of sweetness, from the pounds of Mosaic powder.
Best of Hands Unfinished Lives
7.5% ABV, 78 IBU
Best of Hands Craft Brewery & Barrelhouse's Unfinished Lives is brewed with Centennial and Citra hops for floral notes of orange blossom on the nose with fresh squeezed citrus fruits and pungent woodiness beneath. Grainy-spicy rye character counterpoints the juicy grapefruit and sharp pine flavors on the crisp, dry palate. Some tropical hop dankness emerges midway before the long, resinous, pine-tar-bitter finish.
The Hop Concept Dank & Sticky IPA
8.5% ABV
The inaugural beer of The Hop Concept brand, this IPA is crafted to convey the adjectives comprising its name, the beer is hopped with tons of Cs — Cascade, Centennial, Chinook, Comet, and CTZ (a Columbus, Topaz, Zeus hybrid) — as well as Amarillo, Mosaic, Simcoe, and the super sexy-sounding Experimental 05256. Those last ones have made a splash and are said to bring on notes of pine, mint and stone fruit. All of that are apparent, along with the herbaceous little sumpin' that earns the beer its "dank" descriptor. Melon is also pronounced at first sip, as is a sharp, almost peppery spike giving way to a resiny finish that goes for miles. As the beer warms up, a caramel sweetness plus notes of peaches and persimmons join the party.
Brothers Cascadia Tri-Clamp Down IPA
7.2% ABV
Tri-clamp fittings are the gold standard in professional breweries. They've been widely adopted in homebrewing too as T.C. kettles, fermenters, and pumps become more widely available. Tri-clamp fittings allow you to make a sanitary connection without any nooks or crannies for contaminants to hide in and they can be cleaned in place. Brothers Cascadia teamed up with Breakside Brewery and named their West Coast IPA after the valuable piece of brewing equipment. Expect billowing aromas and intense flavors of dank citrus, ripe papaya, and assertive bitterness.
---