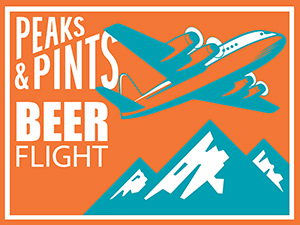 Like many folks, you might be a slave to chemical rituals — caffeine in the morning, and booze at night. In the name of efficiency, Peaks & Pints recommends combining the two at every opportunity. The pairing of roasted barley with roasted coffee is so natural; it's almost surprising these stouts and porters didn't catch on sooner. But coffee beers didn't really start to percolate until the mid-90s, and even now they are far from a staple even among craft breweries. But almost no one argues with the inspiration — porters and stouts tend to rely on a roasty malt bill already, conjuring subtle coffee aromatics and flavors, especially in the finish.  If you mean business, and want two buzzes in one (no, they don't cancel each other out …), then grab Peaks and Pints Pilot Program: Coffee Beer Flight.
Peaks and Pints Pilot Program: Coffee Beer Flight
Pelican The Brewed Abides
7% ABV, 25 IBU
Pelican Brewing's The Brewed Abides takes its inspiration from the classic White Russian cocktail, as well as The Dude imbibing it in the movie that made it famous, The Big Lebowski. This milk stout is brewed with Costa Rican coffee beans, cacao nibs, vanilla beans, pure coastal water, and pure ale yeast abiding in harmony to create intense, rich flavors with hints of coffee, caramel maltiness and a velvety mouthfeel. 
Kulshan Coffee Kitten Mittens
8% ABV
Kulshan Brewing adds four different malts — 2-row, Chocolate, roasted barley, and Munich — to Kitten Mittens Winter Ale giving it the rich, medium-bodied winter warmer we adore with a nose of milk chocolate and a touch of brown malt. The body strikes a nice mix of easy malty notes and medium sweet chocolate balanced by earthy hop notes, thanks to the Apollo, Willamette and Fuggle hops. Blended with cold brewed, Mexican roast coffee from Maniac Coffee Roasting, this version of Kitten Mittens boasts notes of raisin, cinnamon, and toasted nuts.
Machine House Imperial Coffee Stout
8.2% ABV
In 2013, co-founders Bill Arnott and Alex Brenner began brewing English style beers in a building that was once home to Seattle Brewing and Malting, which went on to become better known as the brewer of Rainier Beer. The duo bought Two Beers Brewing's 7bbl system and opened Machine House Brewery in Rainier Beer's "Malt House" in Georgetown. Today, Arnott runs the whole show, but not so much with his Imperial Coffee Stout as Bottleworks helped brew it. This imperial stout is brewed with El Salvadorian coffee beans from Seattle's Onda Origins balanced by restrained roast, chocolate, and bitterness, resulting in a super smooth beer with unique characteristics.
Bale Breaker Incoherency
8.7% ABV
Hops have long defined life at B.T. Loftus Ranches in the Yakima Valley. Back in 1932, Kevin Smith and Meghann Quinn's great-grandparents founded the family hop farm that's now run by their older brother, Patrick. Meghann and her husband, Kevin Quinn, and younger brother were keen homebrewers. Wouldn't it be natural to start a brewery on the farm? In 2013, the trio took down three acres of the farm's Field 41 and built Bale Breaker Brewing Company, which is surrounded by fields of hops. First released through their Imagination Station in 2017, the reprise of Bale Breaker's mind-altering golden stout made with vanilla beans, cacao nibs, and Basalt Roasters' coffee proves that looks can be deceiving. Brewed as part of their Caskmates collaboration with Jameson, Incoherency is aged five months in Jameson whiskey barrels.
AleSmith Barrel-Aged Speedway Stout
13.3% ABV
AleSmith Brewing's Speedway Stout goes a step farther than most coffee-flavored stouts and porters (which derive their flavor from roasted malts) and includes an unspecified amount of ground coffee in the brewing process. The result is an intimidatingly dark beer that pours smoothly, leaves very little head, and is surprisingly light and easy to drink. The coffee flavor dominates: the beer is reminiscent of a freshly brewed iced coffee with hints of chocolate and caramel. The barrel-aged version is aged in premium bourbon barrels for up to one year for added notes of oak, vanilla, and bourbon to this beer's already massive flavor profile.
LINK: Peaks & Pints cooler inventory
---