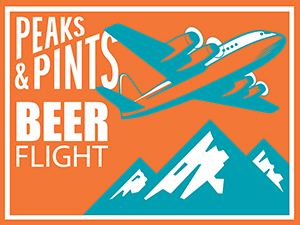 A crossover between the beer and bartending worlds has started emerging in breweries: beers inspired by the flavor profiles and recipes of cocktails. When beer is your job, you don't necessarily want to go home and drink more beer. So it's no shocker that on his or her down time, brewers like a stiff cocktail — which has led to craft beers that taste like cocktails; what a vicious, delicious cycle this is. The base is beer (usually, but not always, a strong one), but then the brewer became a bartender, measuring in specific ingredients that seem like novelties until you actually taste how uncannily the final product resembles a cocktail. Today, we salute cocktails with a to-go beer flight we call Peaks and Pints Pilot Program: Cocktail Beers On the Fly.
Peaks and Pints Pilot Program: Cocktail Beers On the Fly
Founders Mas Agave
10% ABV, bottle

MARGARITA: Salt, sugar or nothing? Rocks or blended? Straight or flavored with mango, guava or some other tropical fruit that epitomizes warm beaches, blue seas and palm trees? What other drink gives you so many choices and so quickly brings to mind lazy warm evenings than the margarita. Founders Brewing's Mas Agave is a margarita-inspired imperial gose brewed with agave and lime, and aged in tequila barrels. Dip your nose in for all the margarita — salty, tangy, lime, and agave. In fact, Mas Agave tastes really close to a margarita — citrusy lime, tart, salty, smooth, with minimal alcohol warmth at 10 percent.
Founders Mas Agave Grapefruit
9.7% ABV, 15 IBU, bottle

THE PALOMA: In its simplest form, the Paloma is basically a highball — a tall, cool glass of tequila and grapefruit soda. Some people dress it up with a salty rim, margarita-style, or squeeze half a lime over the top, but that sort of embellishment runs counter to the basic blue-collar simplicity of the highball. Founders takes their Mas Agave margarita beer and creates another cocktail. The imperial gose is brewed with agave and sea salt before being aged in tequila barrels. But it doesn't end there. Once it's pulled from the barrels, it gets a dose of fresh grapefruit juice to ramp up the tanginess and to pay homage to another tequila-based cocktail, the Paloma. It's sweet, salty, and mouth-puckeringly delicious.
Great Divide Wood Werks Barrel Series #6 Belgian-Style Ale
8.8% ABV, can

OLD FASHIONED: To some generations, an Old Fashioned is a drink served over heaps of muddled fruit and topped with club soda. If you hail from the Midwest, your Old Fashioned might contain Korbel brandy and Squirt soda (a peculiar but beloved regional variation). If you frequent modern cocktail bars, you've seen all manner of cheeky spins on the classic drink. And, if you visit Peaks & Pints, you'll find the beer version in our cooler. Using a subtle Belgian yeast strain to create a malty, enticing base beer, this Great Divide Wood Werks offering reimagines a traditional Trappist-style dubbel. The beer is aged in grape brandy barrels for 10 months with orange peel and cherry puree for the beer version of an Old Fashioned.
Gigantic Pipewrench
8% ABV, growler

PIPEWRENCH: Pipewrench IPA is inspire by the cocktail of the same name. A Pipewrench is a shot of gin dropped in your favorite IPA, akin to a Boilermaker. Gigantic Brewing Pipewrench is their IPA aged in Ransom Old Tom Gin barrels for 3 months juniper berries, orange peel, lemon peel, coriander seed, cardamom pods, angelica root blend, tropical, citrus and mango hop on the nose, Seriously. The palate offers malt flavors punctuated with citrus zest, coriander and teak with a botanical finish.
---