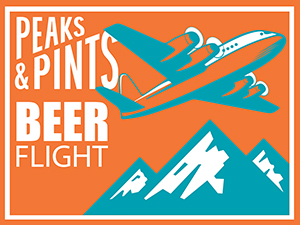 It's National Cinnamon Crescent Day. Weird, right? How is this baked good not celebrated in the fall? The crescent-shaped dough is filled with sugar, cinnamon, and butter then rolled, shaped, and baked to a golden-brown deliciousness. Jerry Seinfeld puts it perfectly in the Seinfeld episode "The Dinner Party." He says, "People love cinnamon. It should be on tables at restaurants along with salt and pepper. Anytime anyone says, 'Oh, this is so good. What's in it?' the answer invariably comes back: cinnamon. Cinnamon. Again and again." Peaks & Pints celebrates National Cinnamon Crescent Day the only way we know how — with beers brewed with cinnamon. Stop by our craft beer bar, bottle shop and restaurant and grab a to-go flight of cinnamon beers — a flight we call Peaks and Pints Pilot Program: Cinnamon Beer On The Fly.
Peaks and Pints Pilot Program: Cinnamon Beer On The Fly
Single Hill Houndstooth
5.1% ABV, 20 IBU
Single Hill Brewing Houndstooth is here to satisfy your sweet tooth. Packed with cocoa nibs, Madagascan vanilla, molasses, and cinnamon, this dessert porter tastes like something out of a bakery as much as a brewery.
Best of Hands Talking To The Night
6.5% ABV, 27 IBU
Best of Hands Barrelhouse uses Olympia Coffee's Organic Morning Sun coffee beans for deep notes of roasted barley and medium-dark roast coffee on the nose with complements of hazelnuts and baker's chocolate. Expect a smooth, silky body offering flavors of chocolate and roasted hazelnut. A hint of toffee emerges mid-palate, while notes of vanilla and cinnamon meld into the bittersweet, creamy finish.
The Bruery Sticky Bun Stout
9.2% ABV
This latest release in The Bruery's Bakery series is inspired by the warming aromas and comforting flavors of piping hot sticky buns. A bourbon barrel-aged stout treated with generous amounts of pecans, maple syrup, pure vanilla, and a touch of cinnamon, complementing the biscuit-forward characteristics of the stout base. It pours a rich, dark brown with a fluffy head and a velvety mouthfeel. Enjoy flavors and aromas of dark chocolate, nutty pecans, and maple syrup with a touch of cinnamon bringing it all together to a decadent finish.
Gigantic Most MOST Premium Russian Imperial Stout Rye 2021
12% ABV
Gigantic Brewing continues the Most MOST favorite vintage series that began in 2015 — barrel aging tier Most Premium Russian Imperial Stout. "Originally inspired by Russia's favorite expression for great, Most Premium, once we barrel aged the beer, we knew we had to use proper Russian grammar, and name it Most MOST Premium," says Van Havig, co-founder of Gigantic Brewing, in a statement. Among the five barrel-aged variants, the booziest is the stout aged in American rye whiskey barrels. The result is a delightful blend of chocolatey plus cinnamon and peppery spice with a subtle woody character.
LINK: Peaks & Pints cooler inventory
---