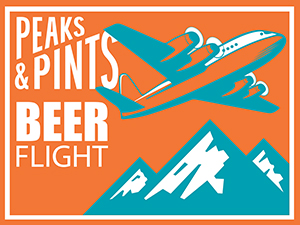 The porter style originated in England as the popular preference of the porters who worked in the shipyards. The style, an ale, is commonly dated to the mid-to-early 1700s. Porter is often confused with stout, which is also an ale, because of its similarly dark appearance. But porters can range from brown to deep black, a result of the chocolate or smoked brown malts that are used in brewing. For a chocolate porter, many brewers use chocolate malt to simulate some aspects of chocolate flavor, but the addition of real cacao will provide the sought-after character: chocolate aroma and flavor reminiscent of quality dark chocolate. A good chocolate porter that delivers on its promise of silky, elegant chocolate character is simple to formulate and brew yet can be devilishly difficult to execute well. Peaks & Pints highlights well-executed chocolate porters in our to-go flight, Peaks and Pints Pilot Program: Chocolate Porter On The Fly.
Peaks and Pints Pilot Program: Chocolate Porter On The Fly
Grand Teton First Mug Mocha Porter
5% ABV
Like your first mug of coffee on a cold winter day, Grand Teton Brewing First Mug Mocha Porter will warm you up. This beer is brewed with fresh Alpine Air Coffee, locally roasted in the brewery's hometown of Victor, Idaho, with a 25 percent Ethiopian and 75 percent Columbia blend. Brewed with 2-row, Marris Otter, Chocolate Rye, CaraMunich 3 and Victory malts, expect With abundant chocolate, plum and coffee flavors.
Victor-23 Counterfeit Chocolate Porter
5.3% ABV, 17 IBU
On a stormy evening in November 1971, D.B. Cooper hijacked a Boeing 727 flying from Portland to Seattle. In Seattle, D.B. released all the passengers once the plane was refueled and he was given two parachutes and $200,000 in cash. The plane soon departed, and the pilot was directed to fly south on the Victor-23 airway. Somewhere in Southwest Washington, D.B. Cooper lowered the rear stairway and parachuted to an uncertain fate. Victor-23 Craft Brewery celebrates this unsolved crime and invites you to drink their Counterfeit Chocolate Porter with notes of chocolate, toffee, fig, and molasses.
Barlows Cocoa-Loco Mocha Porter
5.5% ABV, 16 IBU
Barlows Brewery added Kafiex Roasters' single-origin Brazilian cold brew coffee to their base porter. Next, they layered in lactose for the body and Ecuadorian cacao nibs for a double shot of chocolate decadence. The result is a velvety smooth beer boasting baker's chocolate aroma up front and finishing with hints of almond and cherries.
Counterbalance Verboten Cocoa Porter
5.6% ABV, 35 IBU
The core of the Counterbalance Brewing Co. players, Frank Lawrence and Jeff Howell, met in their previous careers with Seattle specialty coffee mainstay Caffe Ladro. The two homebrewers went pro in mid-2013 opening Counterbalance Brewing Co. in Seattle's Georgetown neighborhood. With cocoa nibs from Theo Chocolate, their Verboten Cocoa Porter offers flavors of dark chocolate, toffee, hazelnut, caramel, roasted malt, and black pepper.
LINK: Peaks & Pints cooler inventory
---