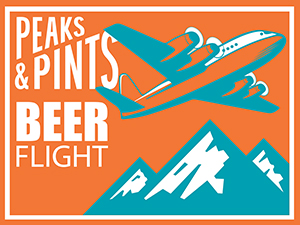 Peaks & Pints can't wait to write our fun-filled New Year's Eve beer flight. It's not that we're fans of the holiday, but that flight will signal the end of this damn year. Hell, we couldn't even muster putting up our Halloween decoration this year. It's National Chocolate Day, so we better write our  15th chocolate flight of the year (so far). … OK, let's perk up for this flight!  Chocolate adds complexity, well-roundedness, and smoothness to a beer's flavor, whether its chocolate is added to the brewing process or chocolate malts are incorporated. And while it's not easy to brew with — oils can cause head retention issues, and it often require long and labor-intensive boils — chocolate beers are freakin' delicious, especially the one below. Celebrate National Chocolate Day with these five chocolatey beers in our to-go beer flight, Peaks and Pints Pilot Program: Chocolate On The Fly.
Peaks and Pints Pilot Program: Chocolate On The Fly
Samuel Smith's Organic Chocolate Stout
5% ABV, 28 IBU
OK, it's chocolate chip cookie time. Samuel Smith's Brewery has always brewed the old-fashioned way and the British operation still pulls water from its original well dug in 1758. Its Organic Chocolate Stout pours dark brown with a thin, khaki head. Light oatmeal and bready aromas lift to the nose, reminiscent of rising dough. On the tongue, this brew's complex and, with its oatmeal character, has a decidedly cookie quality to it: It's silky-smooth across the tongue, but also deep and grainy in the flavor. It's velvety and delicious, with creamy chocolate milk, chocolate syrup and cocoa powder dancing on the tongue. The brew sinks into the mouth and finishes sweet and full.
Eagle Brewery Young's Double Chocolate Stout
5.2% ABV
Eagle Brewery's Young's Double Chocolate Stout's thick, creamy head sticks to the glass, emitting cocoa powder and semi-sweet chocolate. A hint of hoppiness in the air reminds that it is very much a beer. Pale ale and Crystal malt, Chocolate malt, special blend of sugars, Fuggle and Goldings hops, real dark chocolate and chocolate essence are all utilized in creating this unique beer. Creamy chocolaty sweetness coats the tongue like liquid silk. The malty, chocolaty smoothness dives into roasted malt bitterness that tingles through the aftertaste: The chocolate's truly the chip off the old stout.
Three Creeks FivePine Chocolate Porter
6.2% ABV, 40 IBU
Three Creek Brewing's FivePine Chocolate Porter grabbed gold at the 2020 Great American Beer Festival, which it did in 2016, too. It also nabbed a silver at the 2018 World Beer Cup. It's a winner with its seven specialty malts and 2 pounds of Belgian cacao nibs for a sweet and smooth sipper. The aroma is chocolate forward, as expected. The body is creamy chocolate with a milk chocolate front and toasty malt throughout, yet not overly sweet.
Blank A Round On the House
8% ABV
Today, there are many craft breweries calling Brooklyn home, including ______ Brewing, or Blank Brewing. Flying under the radar, this Brooklyn-based nano brewery brews delicious beers with 12 Percent Beer Project in New Haven, Connecticut. Blank's A Round On the House is a Cocoa Krispies-inspired imperial milk stout brewed with lactose and cocoa nibs.
Rogue Double Chocolate Stout
8.8% ABV, 68 IBU
Rogue Ales' Double Chocolate Stout, which debuted for Valentine's Day in 2001, is an oatmeal chocolate chip cookie and a chocolate truffle together in a bed that had been strewn with hops. Now imagine the imperial version. Rogue's Double Chocolate smells like the inside of pain au chocolat thanks to ample bittersweet Dutch chocolate. Clocking in at 8.8 percent alcohol by volume and wearing a red 750ml casing, this 2010 World Beer Championships gold medal winner is definitely a one-beer buzz.
---