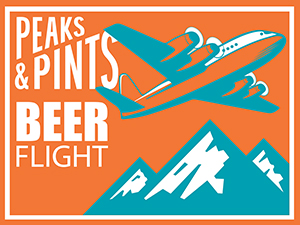 It's National Caramel Day! Let's get to learning. … Americans began making sugary syrups in the 1600s, but the delicious chewy caramel we know and love today was a more recent innovation. Caramel candy emerged during the 18th century and quickly became one of the most popular sweets on the market. In fact, Milton Hershey's first business was the Lancaster Caramel Company. Caramel is made with butter, brown and white sugar, milk or cream, and vanilla. It is usually enjoyed as an ice cream topping, a candy filling, or as a flavor in craft beer, at least according to Peaks & Pints. We have at least five beers in the cooler with caramel, which is enough to make a to-go flight of bottles and cans that we call Peaks and Pints Pilot Program: Caramel On The Fly.
Peaks and Pints Pilot Program: Caramel On The Fly
Iron Horse Quilter's Irish Death
7.8% ABV, 12 IBU, can
Ellensburg, Washington's Iron Horse Brewery is an iconoclastic brewery. They're not ones to copy/paste a style into their profile just to compete with the Irish beer giants. Quilter's Irish Death was born of a reverence to the dry Irish stout. Created by the Iron Horse Brewery founder Jim Quilter, this craft beer has been called a sweet stout, strong ale and Scotch Ale. We call it delicious with a massive amount of malt that goes down easy. On the nose, caramel malt was definite and distinct. On the tongue, is over-the-top malty with sweetness and caramel flavor. We survived this beer candy to see another day.
Anderson Valley Salted Caramel Bourbon Barrel Aged Porter
6% ABV, 16 IBU, can

Now in cans, Anderson Valley Brewing's slightly sweet porter is brewed with select additions of crystal malts and sea salt to create flavors of peanut brittle and caramel without being cloying. The medium body and mouthfeel lay the perfect foundation to support the rich vanilla, oak, and bourbon flavors imparted by extended aging in Wild Turkey barrels.
Oskar Blues Old Chub
8% ABV, 25 IBU, can

Oskar Blues' Old Chub is a celebration of malts. The Scottish style ale is brewed with copious amounts of crystal and chocolate malts, and a dash of beechwood-smoked malts. The cola-colored beer features a dense, tawny head; a creamy mouthful and hints of raisin are noticeable in the bouquet, even if it is slightly crowded by the strong malt scent and smokiness. On the tongue expect caramel, chocolate and lightly roasted malt. Complex and rich, it finishes with a whisper of smokiness that calls to mind a fine single malt scotch.
Cigar City Maduro Brown Ale
5.5% ABV, 25 IBU
Cigar City Brewing's Maduro is a Northern English-style brown ale with some American affectations. Maduro is higher in alcohol than the common English brown ale and features flaked oats in the malt bill, which imparts a silky body and works to mesh the roasted, toasted, caramel and chocolate components together in Maduro's complex malt profile. The end result is a remarkably full-flavored yet approachable and sessionable brown ale. Pairs well with a cigar, obvs.
North Coast Old Stock Ale
11.9% ABV, 34 IBU, bottle

With a big sherry-like aroma, including hints of vanilla and peppery spice, we're forewarned North Coast Old Stock Ale is stocky. Sure enough, our first taste highlights caramel maltiness, some brown bread and goes into the molasses with Champagne-grape and honey notes along for the ride. In the cocktail world this beer would be an Old Fashioned. It's hot with alcohol, lip tingling and obviously young, with an assertive bitterness that belies the 34 IBUs. As good as it is today, it will significantly improve with time.
---