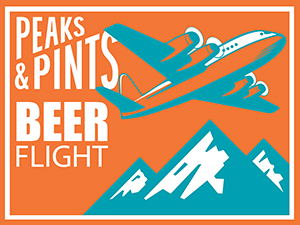 In 2000, Mississippi homebrewer Robert "Beaux" Bowman moved to Washington and landed at Mac and Jack's Brewing in Redmond. Next, he worked at Far West Ireland Brewing (now closed), The Ram, and Lazy Boy Brewing, and anywhere else that needed his services. In April 2009, Beaux and Kat Gillespie opened Black Raven Brewing Company on the southeast corner of Willows Road Northeast and Northeast 95th Street just blocks from downtown Redmond and the Sammamish River Trail. Today, Peaks & Pints presents a to-go flight of Black Raven beer — a flight we're calling Peaks and Pints Pilot Program: Black Raven On the Fly.
Peaks and Pints Pilot Program: Black Raven On the Fly
Black Raven Core of Four – Element No. 4
4% ABV
Black Raven's Core of Four series celebrates and highlights the four core ingredients of beer: malt, hops, yeast, and water. Element No. 4 focuses on water. This light and refreshing lager showcases the work that water does to bring out the flavors of all the beer elements. Beer is, like us, mostly water. At its core, Element No. 4 is a premium Northwest lager with a hint of lime. A portion of sales from Element No. 4 will be donated to Washington Wild, whose Brewshed Alliance does important work conserving the waterways that make Washington beer delicious.
Black Raven Feather Weather
6% ABV, 32 IBU
If Punxsutawney Phil emerged from his hole drinking Black Raven's Feather Weather, it means he thinks we're frontin' and pops a cap in our asses because he thinks we've been with his woman. We haven't obviously, but we'll gladly be with this beer. This American stout is brewed with cocoa nibs and Moto cold pressed coffee from Seattle. Dark chocolate and coffee flavors combine for the best of both worlds, yo.
Black Raven Second Sight
6.9% ABV, 32 IBU
According to Black Raven, "Ravens in the Scottish Highlands were once thought to possess the gift of second sight, the ability to see future events before they occur. Second Sight Scotch Ale is built around malted barley with hops playing a balancing role. This beer is ruby in color with large malt aromatics, delicious malt flavors and a full-bodied finish." Indeed, this creamy Scotch ale hits with massive fruity sweetness of raisin, date and toffee notes then flies forever with a woody finish and a slight alcoholic aftertaste, warming if you will.
Black Raven Grandfather Raven
9.5% ABV, 70 IBU
In the creator role, and in the Raven's role as the totem and ancestor, the Raven is often addressed as Grandfather Raven. With this stately sense of pomp and tradition we bring you our imperial stout. Black Raven's Russian imperial stout is full of rich dark caramel notes, unsweetened chocolate, and hints of coffee aromas and flavors. Stately indeed, but at 9.5% ABV, perhaps it is just a vain attempt to encourage the trickster spirit to act respectably. NOTE: This is different from the bourbon barrel aged version, Great Grandfather Raven.
Black Raven Trickster
6.9% ABV
Bowman launched Black Raven Brewing with the flagship IPA, Trickster, named after the hidden 6.9% ABV. Trickster is a well-balanced IPA with a deep chewy malt character obtained from copious amounts of ESB, Munich and Crystal combined with a blast of Chinook, Magnum, Simcoe, Amarillo, and Cascade hops. Basically, Black Raven brewed a craft beer that has an elevated grain bill and an elevated hop bill, executed perfectly so you have an elevated beer. This third seed IPA brings light fruit, citrus, and piney hop aroma with a full hop flavor to the game.
Black Raven Macho Grande
7.5% ABV, 50 IBU, draft
This new introduction to Black Raven's hazy series is an imperial IPA full of citrus and tropical flavors thanks to the new Trident hop blend in harmony with Mosaic.
LINK: Peaks & Pints cooler inventory
---