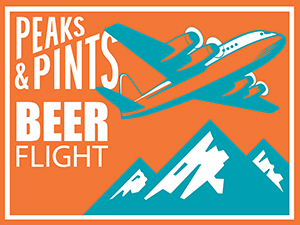 First made famous by Stone Brewing Company with the brewery's release of Sublimely Self-Righteous IPA, the black IPA, or Cascadian dark ale, combines light flavors of roast and chocolate along with the forward hop aromas and flavors one would expect from a traditional IPA. As you might guess, Black IPA is a bit of a misnomer. After all, with the "P" in "IPA' representing "pale," how can a beer be black and pale at the same time? But whether you call this style a Black IPA, a Cascadian Dark Ale, or simply a hoppy dark beer, this style scales back the bitterness and balances it with a hint of smooth maltiness. With the return of Firestone Walker's Wookey Jack Rye IPA, Peaks & Pints suggests you take home more black IPA in our to-go flight, Peaks and Pints Pilot Program: Black IPA Flight.
Peaks and Pints Pilot Program: Black IPA Flight
Wet Coast Scofflaw CDA
7.1% ABV, 65 IBU
No American craft beer style has ever generated more contentious debate than black IPA, when it comes to nomenclature. From the moment that people started calling this style anything, there's never been consensus on what exactly they should be called. Basically, it's a hoppy IPA with mild to moderate roastiness that is sometimes derived via debittered black malts such as Carafa and dark wheat malt, lending a crisper edge and the type of dry, coffee-like flavor you find in the German black lager style, schwarzbier. Wet Coast Brewing's Scofflaw CDA is absolutely an IPA — more so than many black IPAs. Columbus, Falconers Flight, Amarillo, and Simcoe hops provide a hit of citrus, resin, and smooth bitterness. While dark wheat malt gives the beer its black color and just a hint of roast character, the beer leaves the palate slightly dry, accentuating its hop character. Scofflaw grabbed Silver last year and Bronze this year at the Washington Beer Awards.
Pelican Bad Santa
7.5% ABV, 65 IBU
"I Saw Mommy Kissing Santa Claus," sung by former jockey Jimmy Boyd, takes a humorous approach to a child's shocking discovery of his mother's infidelity. The Pelican Pub & Brewery in Pacific City, Oregon, brews a Cascadian dark ale that pairs with Mommy's merry adulterer — Bad Santa. This mysterious dark elixir is filled with complex malt flavors and aromas with toasted malt and roast character, blending seamlessly to the alluring herbal hop aroma that comes from copious amounts of Fuggle hops. Bad Santa doesn't care if Jack Skellington has been naughty or nice; he just wants Mommy.
Firestone Walker Wookey Jack Rye IPA
8.3% ABV, 70 IBU
Wookey Jack was initially created in 2012 as Firestone Walker Brewmaster Matt Brynildson's answer to the emerging "black IPA" style of the day — essentially dark malts added to a bold IPA recipe. The name of the beer is a reference to the hard core Phish fans — dreadlocked, blurry eyed tour wizards who smelled a bit dank, made their living on shakedown street and never missed a show. After blazing an impressive trail (including gold medals at the Great American Beer Festival in 2012 and 2013), Wookey Jack was discontinued in late 2016 — but occasional sightings have persisted, including at the 2020 Great American Beer Festival, where it earned the lone gold medal in its category. This new batch of Wookey Jack remains faithful to the original recipe — rye malt, midnight wheat (roasted wheat) and Carafa III — adding a spicy grain element to balance dank sticky Citra and pungent Amarillo hops.
LINK: Peaks & Pints cooler inventory
---