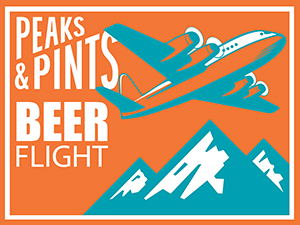 Craft beer labels put all other alcohol labels to shame. From aliens to psychedelic landscapes, breweries and their designers dream up the most colorful labels in all the alcohol kingdom. Amidst the tattooesque cartoons of buxom women and questionable puns, Peaks and Pints noticed a theme repeatedly popping up on several craft beer labels: birds. It seems that craft beer aficionados love feathered (and not so feathered) creatures as much as wine lovers adore cats. Just which birds are featured on craft beer labels? Peaks and Pints is so glad you asked. Get out your National Audubon Field Guide and start practicing your bird calls — Peaks and Pints presents a flock of bird-themed beers on today's beer flight, Peaks and Pints Pilot Program: Bird Beers On The Fly. These six are worth tweeting about during the Seahawks vs. Cardinals game today!
Peaks and Pints Pilot Program: Bird Beers On The Fly
The Ale Apothecary Cuckoo Bird
8.5% ABV
Blending is an important tool to bring a finished sour beer's acidity and other components into balance, as well as to develop complexity and a nuanced flavor profile that can't be achieved with one strand of beer alone. The Ale Apothecary blends select wild ales aged in two French brandy barrels on hundreds of pounds of second use sweet cherries, conditioned with honey, to create Cuckoo Bird.
Structures Silvernail
8.5% ABV
Structures Brewing, in Bellingham, recently added Bryan Cardwell as a co-owner with James Alexander. Alexander met him when Cardwell was brewmaster down the street at Chuckanut Brewery. Cardwell also did a stint as senior brewer at pFriem Family Brewers in Hood River, Oregon. Silvernail Baltic porter will be forever known as Cardwell's first Structures beer. As with many Structures beers, a bird graces the can. A Gyrfalcon, specifically — a fierce predator in the High Arctic — drawn by Hash, who can be found at @thehashishin.
Wander Earlybird
9.6% ABV, 38 IBU
Wander Brewing's Earlybird awakens each fall after a long, deep slumber in freshly emptied bourbon barrels. The Bellingham brewery brews this barrel-aged breakfast stout with housemade dulce de leche, oats, coffee, and lactose. The dulce de leche is standout. The bourbon is strong, but smooth, with subtle coffee and chocolate notes. Earlybird grabbed gold at the 2019 Washington Beer Awards in the Wood & Barrel Aged Imperial Stout category.
Black Raven Grandfather Raven
9.5% ABV, 70 IBU
In the creator role, and in the Raven's role as the totem and ancestor, the Raven is often addressed as Grandfather Raven. With this stately sense of pomp and tradition we bring you our imperial stout. Black Raven Brewing's Russian imperial stout is full of rich dark caramel notes, unsweetened chocolate, and hints of coffee aromas and flavors. Stately indeed, but at 9.5% ABV, perhaps it is just a vain attempt to encourage the trickster spirit to act respectably. NOTE: This is different from the bourbon barrel aged version, Great Grandfather Raven.
Pelican Bird-Day Vol. III
10% ABV, 45 IBU
For more than 25 years, Pelican Brewing Company has been brewing award-winning and innovative craft beer. It all started at a rundown old building on the edge of the Oregon Coast, where three enthusiastic individuals found themselves embarking on an adventure to make great beer. Today, with four locations along the Oregon Coast and piles of medals, Pelican honors the people that have helped shape them with Bird-Day collaborations with former Pelican. Jason Schoneman, now with Steel Toe Brewing, helped brew this new style of beer that marries the strength of a barleywine with fruity hop character, crisp finish, and low bitterness. Like a dry white wine, this beer is lighter in body with hints of pineapple and passionfruit, plus intense hop character.
Imprint Phoenix Rising
13% ABV
The Seattle Seahawks is in Phoenix playing the Cardinals today. The city of Phoenix was given its name by its founders because it had sprung from the ruins of a former civilization that had vanished into history. As a result, the Phoenix bird became the official city symbol. The phoenix bird symbolizes immortality, resurrection, and life after death, and in ancient Greek and Egyptian mythology it is associated with the sun god. Imprint Beer Co., located in Hatfield, Pennsylvania, titled their pastry imperial stout Phoenix Rising, which they brewed with Upper Reach Meadery, also in Pennsylvania. They concocted this stout with a combination of British and American malts, then added maple syrup and honey to the secondary fermentation. Post fermentation they added chocolate, hazelnuts, and marshmallow.
LINK: Peaks & Pints cooler inventory
---