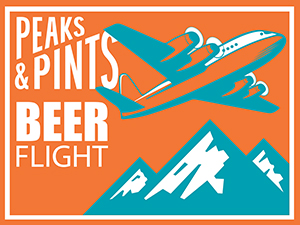 The India Pale Ale emphasizes hoppiness, which can take the form of herbal, citrus and/or piney character in both aroma and flavor. Adding the prefix "imperial" means the beer is made with a lot of everything, resulting in more aroma, flavor, and strength. The triple IPA is a palate-smashing beast of an ale designed for those times when a hazy IPA simply won't cut it. Yet, the style still isn't recognized — and debate rages among the pimpliest of beer nerds over whether it's a style at all. Peaks & Pints believes the triple IPA is a massively hoppy beer of 10 percent ABV and greater with outrageous amounts of dry hops, hop flavor, malt flavor, alcohol, and bitterness. The triple IPA may be similar to a double IPA in hop character, but is differentiated from the style by a thick, syrupy body accented by intense hop resins that make it a heavy sipping beer. Great triples harness an artful assortment of hops and propping them up with a suitable quantity of the proper malts. Swing by Peaks & Pints and grab our to-go flight of triple IPAs — a flight we're calling Peaks and Pints Pilot Program: Big IPAs On the Fly.
Peaks and Pints Pilot Program: Big IPAs On the Fly
Equilibrium Lupus Salictarius Batch 3
10.5% ABV
Lupus Salictarius, which literally translates as "wolf of the willows," is disputably the first hop plants and is said to be the botanical name immortalized by a famous Roman philosopher. In collaboration with Mortalis Brewing, Equilibrium Brewing's Lupus Salictarius Batch 3 is brewed with a base of 2-row, flaked oats, and white wheat before adding a giant addition of Citra and Idaho7 in the whirlpool. They dry hopped with Citra, Nelson, and Galaxy for an explosion of tropical dankness, big guava, sweet tangerine citrus, white grape, a touch of passionfruit and New Zealand grass.
Stone RuinTen Triple IPA
10.8% ABV
In 2002, Stone Brewing created Ruination IPA — the first full-time brewed and bottled West Coast style double IPA on the planet. In effect, it quickly became the most widely available example of the style. At the time, it was an attack on the palate, quite literally off the bitterness charts. So naturally, Stone celebrated Stone Ruination IPA's 10th anniversary with even more hops. Stone's brewers raised the ABV to 10.8% and upped the bitterness with reckless abandon. The combination of Centennial and Citra hops make for an abundance of tropical fruity flavors right up front. A pleasant maltiness balances the hops and the experience finishes with that long, lingering, gloriously ruinous finish that defines the West Coast IPA style.
Sierra Nevada Hoptimum
11% ABV
Each year the Sierra Nevada brewers refine the Hoptimum Triple IPA recipe, tinkering with the hop line-up to ensure the beer offers a similar flavor profile, while also featuring the finest, most flavorful hops of the recent hop harvest season. For 2022 the beer features Amarillo, BRU-1, Pahto, and Simcoe hops. The process of creating the beer involves the use of Sierra Nevada's innovative dry-hopping device dubbed the Hop Torpedo, which is used to impart optimal hop aromas and flavors without adding bitterness — and this year it means hoppy, piney and a bit floral on the finish.
Nightmare Drawn And Quartered
10% ABV
Mostly carried out in the Medieval and Early Modern era, being torn apart by horses was also referred to as "disruption" or being "drawn and quartered." Infamous cases include the executions of François Ravaillac in 1610 and Robert-François Damiens in 1757. Nightmare Brewing's Drawn And Quartered quadruple dry hopped imperial New England-style IPA is brewed with Nelson Sauvin, Galaxy, Enigma, and Citra hops tossed into the mash tun, kettle, fermenter (four times) and brite for nectarine, mango, and underlying white wine aromatics, followed by tropical notes, mango, ripe pineapple, tangerine, and lychee flavors, finishing with a dank bite and alcohol warmth.
Dogfish Head 120 Minute IPA
18% ABV, 120 IBU
Dogfish Head's 120 Minute IPA is pure craft gluttony in a bottle. Layers of syrupy, grassy, dank on dank on dank, resin hops get boiled for two hours, using Amarillo, Simcoe and Warrior hops continuously in the brewing and fermenting process  —  this beast ain't about fresh, it's about hop power. Taste starts bittersweet with piney hops and orange peel but then the booze kicks in and burns the throat. Despite this, there's a nice, smooth finish that follows the initial hoppy burn.
LINK: Peaks & Pints cooler inventory
---