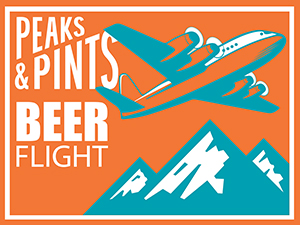 At 3:30 p.m. today, Tom Brady will play in his 10th Super Bowl when his Tampa Bay Buccaneers face the Kansas City Chiefs at Raymond James Stadium in Super Bowl LV. That last sentence sounds like a bad joke you read in the Weekly Volcano in 2006 but, incredibly, it is a thing that is true in the year 2021. The game will include the Best of Hands. We're not talking about Brady's incredible recovery from his 2017 AFC Championship Game when he jammed his thumb, to the point where it bent back so far and so violently that the base of this thumb actually ripped through the skin on his palm. We're not talking about three-time Pro Bowler Jason Pierre-Paul recovery since suffering a life-altering hand injury as a result of a fireworks accident in 2015. We're not talking about throwing, catching, blocking, illegal hands to the face penalties, nor hand sanitizer, although there will be so much hand sanitizer. No, the Best of Hands Peaks & Pints references is our Best of Hands Barrelhouse to-go flight you'll enjoy drinking during today's game. Best of Hands Barrelhouse opened in March 8, 2019 in the iconic "cow building" of West Seattle. The brewery's focus is on farmhouse and sour ales inspired by those of Belgium and France but with an emphasis on Washington state ingredients, mixed-culture fermentation, and some spontaneous fermentation. They also brew delicious other styles, as you'll taste below. Stop by Peaks and grab Peaks and Pints Pilot Program: Best of Hands On the Fly.
Peaks and Pints Pilot Program: Best of Hands On the Fly
Best of Hands Mystic Queen
7.5% ABV, 20 IBU
Best of Hands Barrelhouse blends a 15-month-aged ex-Cabernet Sauvignon barrel sour ale with a new American oak foeder beer with yarrow flowers and chamomile to create the Mystic Queen farmhouse ale. Aromas of oak and vanilla envelope sweet-herbal yarrow on the nose with spiced apple and floral-honied notes from chamomile. Yarrow dominates the palate with herbal, sweeter ginger-like notes which meld with the autumnal spice qualities of the chamomile. Malt character akin to wildflower honey enters midway before some balancing oak astringency and acidity round out the subtly tart finish.
Best of Hands Talking To The Night
6.5% ABV, 27 IBU
Best of Hands used Olympia Coffee's Organic Morning Sun coffee beans for deep notes of roasted barley and medium-dark roast coffee on the nose with complements of hazelnuts and baker's chocolate. Expect a smooth, silky body offering flavors of chocolate and roasted hazelnut. A hint of toffee emerges mid-palate, while notes of vanilla and cinnamon meld into the bittersweet, creamy finish.
Best of Hands Wordless Chorus
6.5% ABV, 40 IBU
Featuring Citra, Mosaic, and Amarillo hops, Wordless Chorus hazy IPA displays tropical aromas of papaya and guava. Flaked oats, and wheat make for a pillowy smooth body loaded with juicy notes of guava and some cannabis-like dankness. Semi-sweet cereal grain enters mid-palate with a hint of vanilla. Resin and pine help to dry out the bitter-sweet finish.
Best of Hands Unfinished Lives
7.5% ABV, 78 IBU
Best of Hands Unfinished Lives is brewed with Centennial and Citra hops for floral notes of orange blossom on the nose with fresh squeezed citrus fruits and pungent woodiness beneath. Grainy-spicy rye character counterpoints the juicy grapefruit and sharp pine flavors on the crisp, dry palate. Some tropical hop dankness emerges midway before the long, resinous, pine-tar-bitter finish.
LINK: Peaks & Pints cooler inventory
---