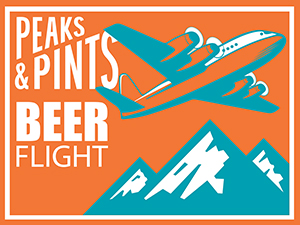 Fermentation, at its most basic, is the process by which yeast eat sugars found in wort and convert them into alcohol. There are two major places where fermentation can occur during the brewing process: in stainless steel tanks (the most common) or in wood vessels such as barrels, foeders or puncheons. Beer aged in barrels will absorb some of the various chemical compounds present in the wood, such as lactones (floral aromas and flavors), phenolic aldehydes (vanilla), and the simple sugars (caramel). When the beer is first in the barrel, it will begin to absorb very strong caramel and vanilla flavors, as well as any flavors left over from the previous beer or spirit residing in it, if any. Over time the beer will soak deep into the staves of the barrel before being pushed back out again, taking with it all of the rich flavors and compounds from the wood. Today, Peaks and Pints suggests a to-go flight of barrel-aged sours — a flight we call Peaks and Pints Pilot Program: Barrel Sours On The Fly.
Peaks and Pints Pilot Program: Barrel Sours On The Fly
Great Divide Golden Sour
6% ABV
To create this sour, fruity and funky golden sour ale, Great Divide Brewing aged three different Belgian-inspired their beers separately for a year in Pinot Noir barrels and spiked them with a blend of three unique souring agents. Those beers were then blended and left to rest directly on a bed of white grapes. Golden in hue, the end result is pleasantly sour with a rich, fruity bouquet of melon, grapes, pear and apricot.
pFriem La Mûre
6.49% ABV
pFriem Family Brewers mixes fresh Oregon blackcap raspberries and marionberries and let them mingle with their white wine barrel aged ale. La Mûre pours a mysterious black plum with a velvety heliotrope head. Enticing aromas of blackberry pie, roses, cedar and limoncello segue sweetly into flavors of pomegranate, acai, Cabernet, pine and white pepper before a brightly acidic finish of lemon, earth and wine.
Cascade Blueberry Ale 2020
7.8% ABV
As one of the United States' top blueberry producers, Oregon's Willamette Valley is home to outstanding blueberries. Cascade Brewing works directly with Oregon growers examining each individual blueberry for absolute ripeness to create one of our staple Northwest sour ales. Blueberry Ale 2020 features a blend of sour triple and blond ales aged in Pinot Noir barrels for up to two years with said blueberries for an appropriate blueberry nose plus red wine, bramble fruit, and eucalyptus. On the tongue, expect … wait for it … blueberry fruit, as well as oak, lemon, cereal grains, and mint.
Ex Novo De-Vine
8.1% ABV
Ex Novo Brewing's De-Vine is a spontaneously fermented wine/beer hybrid fermented with Malbec grapes from the Columbia River Gorge and aged in used Pinot barrels for one year before blending for notes of tart watermelon and strawberry.
LINK: Peaks & Pints cooler inventory
---