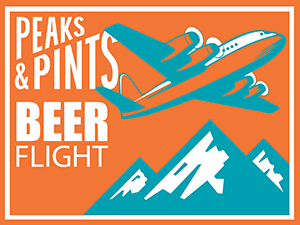 Despite its name, the barleywine is indeed a beer but at wine strength — ranging as low as 7-percent alcohol by volume in British versions and upward of 15 percent in American interpretations. Despite its name, barleywines aren't made with tons of specialty grains, as one might assume. Historically, barleywines are brewed with pale malt, the same malts used for pale ales. Brewers achieve that rich caramel flavor that's expected in barleywines by extending the length of the boil, which caramelizes the flavors and imparts that deep color. Yeast and hops vary between English-style and American-style barleywines, but either way, the barleywines we drink today are expectedly bold, yet surprisingly complex. Today, Peaks and Pints presents six barleywines to-go in our Peaks and Pints Pilot Program: Barleywine Beer Flight.
Peaks and Pints Pilot Program: Barleywine Beer Flight
Reuben's Brews Barnacles
11.75% ABV
Barnacles English-style Barleywine is the sixth release in Reuben's Brews' 10th Anniversary Collaboration Series, brewed with brewing legend Alan Sprints of Hair of the Dog Brewery. It's English on the sweet side, but with a Pacific Northwest hop profile. Expect sweet toffee, alcohol notes, slight vanilla, deep caramelized flavor, a bit of fruit, and and some bitter hops on the finish.
Evil Twin Devil Child
12% ABV
We're sure you've heard someone say "the devil is in the details" at some point in your life. And if that's true then the brainchild of Evil Twin Brewing rears its detailed head with maple and vanilla, all tangled up in an English-style barleywine. As a toasty-sweet scent rolls from the head, so do an underlying current of dark fruit, brandy-like spice, toasted nuttiness, and a slew of deep and malty sweetness. The taste leans in with intensely sweet flavors of honey, molasses, maple, heavy cream, and caramel, followed by macerated fruits acting as though they've been brandy-soaked as nuances of Port and Madeira provide numbing warmth to the candied and fruity sweetness. Slightly earthy and offering a broad and woodsy bitterness, the finish is lightly bittered while allowing the leading sweetness to keep its path.
Buoy Love, Lost At Sea (2022)
12% ABV, 70 IBU
Buoy Beer Company released its fifth vintage of their Love, Lost at Sea barrel-aged barleywine this past Valentine's Day. Strong and complex, this vintage is aged in Freeland Spirits bourbon barrels for 10 months to give it a smooth, sweetly toasted flavor. A piquant and distinctive malt character rounds out the profile using a dense grist of British pale, British Crystal, and Chocolate malts, all balanced by a healthy dose of Oregon hops. This warm, harmonious ale shines a light on the tangle of love gone adrift. The label artwork for Love, Lost at Sea was created by Aaron Toledo.  Originally from Kansas City, Aaron moved to Oregon in 2002 where he's been tattooing at Keepsake Tattoo Studio ever since. Aaron is inspired by the ocean, the woods, far reaches of the earth, and "crazy-ass people," which is probably why he's tattooed so many around the Buoy's hometown of Astoria.
Ecliptic 5000
13% ABV
Ecliptic Brewing – the brewery founded by Oregon beer icon, John Harris – recently celebrated an important brewing milestone: their 5000th batch of beer. The beer, simply called "5000", is a golden barleywine aged in gin barrels. It's brewed with Pale and Munich malts and hopped with Nugget, Azacca, and Mosaic. The beer slept in Ransom Old Tom Gin barrels for 5 months, picking up notes of oak, gin aromatics, and botanical notes. It's boozy, a touch sweet, and carries intense gin notes.
Gigantic Massive! Bourbon Barrel Aged (2021)
14.3% ABV
Brewers in the midlands of England would boil their barleywines ales for longer times to intensify their flavors. Gigantic Brewing brews their Massive! each year with just one malt, and then boil it for more than 8 hours to create a barleywine with a deep ruby color and rich malt flavor. In 2001, they chose Skagit Wintmalt, and then aged the beer in select bourbon barrels. It hits the nose with toffee, plums, figs, raisins, malts, sourdough bread, and a bit of chocolate. We get tons of toffee, as well as bourbon, vanilla, chocolate, plums, figs, dates, red wine, slight bitter hoppy note, and a bit of brown sugar. By the way, it's massive!
Varietal Ritual of Oblivion
14.4% ABV
Varietal Beer Ritual of Oblivion made a brief teaser appearance at Brouwer's Café's Hard Liver barleywine festival before Varietal tucked it away for this week's release date. It's a blend of barleywines aged for 18 months in barrels that previously held Four Roses, Heaven Hill, Old Fitzgerald, and Blanton's bourbons. Expect a big bourbon flavor, with toffee, malt spice, and burnt sugar.
LINK: Peaks & Pints cooler inventory
---