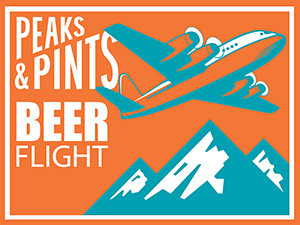 Today marks the first day of autumn, therefore Peaks & Pints sat with a dozen eggs to, once and for all, confirm or dispel the nagging question of whether or not eggs will stand unaided on the autumnal equinox. What we had was scrambled eggs for breakfast. What is guaranteed is that fall is upon us. The leaves are falling. You have sleeves on. It's time to make it official: Peaks & Pints presents a to-go flight of fall beers. So let's ignore that it's 69 degrees outside and enjoy Peaks and Pints Pilot Program: Autumn On the Fly.
Peaks and Pints Pilot Program: Autumn On the Fly
AleSmith Nut Brown
5% ABV
Brown ales are a natural match for autumn drinking, and AleSmith Nut Brown fits the bill. Deep mahogany in color, its rich, malt-forward flavor profile balances notes of toasted nuts, creamy cacao and a hint of vanilla. A creamy mouthfeel and full body enhances its drinkability, making Nut Brown an extremely sessionable fall sipper that's not as heavy a winter warmers.
Backwoods Pecan Pie Porter
5.9% ABV, 20 IBU
Nestled on the edge of lumber country along the Columbia Gorge, Backwoods Brewing Co.'s Pecan Pie Porter satisfies the sweet tooth. This mahogany-colored porter, brewed with whole PECANS, showcases the nut's earthiness in the aroma. Made with five different grains, including chocolate and caramel malt, this seasonal porter gives off subtle chocolate notes, complimented with hints of vanilla and pecan. It put Thanksgiving has arrived.
Reuben's Autumn Harvest Imperial Pumpkin Ale
8.7% ABV, 22 IBU
The great Autumn Harvest Imperial Pumpkin Ale has re-risen from Reuben's Brews' pumpkin patch with everything pumpkin beer lovers enjoy: A sweet, chewy, delightful ode to the sensation of being warm and cozy in the fall. Spice notes compliment the rich, pumpkin mouthfeel, sweet malt and toasted nuts notes. Reuben's is a true friend to fans of the style, and is clearly committed to brewing with class and creativity. 
Left Hand Oktoberfest
6.6% ABV, 24 IBU
Left Hand Brewing's Oktoberfest is a Märzen lager brewed true to style, giving tribute to its German roots. The Colorado brewery begins brewing in the late spring and it takes a full two months to reach the brewery's lagered desire. Moreover, the brewers perform a traditional but lengthy decoction mash process, boiling portions of the mash only 40 percent at a time. The laborious method takes up to 8 hours but is key to Oktoberfest's brilliant copper color and notes of warm biscuit reminiscent of home and fall tradition. Oktoberfest begins with the toasty sweetness of the malt up front while the noble pedigree hops allow for a dry crisp finish.
Epic Imperial Pumpkin Porter
8.1% ABV
Epic Brewing's Imperial Pumpkin Porter is brewed with pumpkin puree, nutmeg, allspice, cinnamon and Madagascar vanilla beans. In the smell department, we get roast and malt, with notes of pumpkin and yeast. The taste is also roasted malts with light roast coffee, brown bread and pecans. Caramel sweetness and cocoa powder emerge as the beer warms, but it maintains the sweet, vegetal earthiness of baked pumpkins and sweet potatoes. It all culminates in a flash of dark chocolate and cinnamon with a touch of vanilla.
---