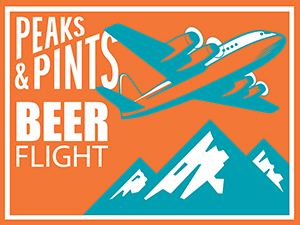 El Dorado is a baby among some of the other hop varieties. Born and bred in Moxee Valley, Washington, CLS Farms developed El Dorado in 2008 and released it for sale in 2010. Still, there are three reasons why American born El Dorado is pulling serious weight in the craft beer scene. First, it's all about the aroma in El Dorado — a bold, fruity aroma. Second, despite its strong aroma that elicits notes of citrus, pineapple, mango, apricot, and even Jolly Rancher candy, El Dorado has a remarkably strong alpha acid content, making it a good dual-purpose hop for bittering. Last, El Dorado has become a bit of a "hop du jour" for craft breweries; breweries are adding El Dorado to its pale ales for a tropical twist, or using it for single-hopping. The result? Big, tropical fruit flavors reminiscent of pineapple and mango punching in our American Craft Beer Week to-go beer flight: Peaks and Pints Pilot Program: American Craft Beer Week Hop.
Peaks and Pints Pilot Program: American Craft Beer Week Hop
Little Beast Treasure Hunter
4.7% ABV
Little Beast Brewing considered naming Treasure Hunter "Major Pineapple" because the hop flavor and aroma from the El Dorado and Simcoe dry hopping is bursting with pineapple, and some stone fruit. The Portland brewery's sour session IPA is their newest seasonal release. Treasure Hunter has pronounced tartness. The lemony acidity mingles nicely with the flavors of pineapple and stone fruit. It's easy drinking!
Modern Times Themisto
6.5% ABV
Modern Times Beer's four-way power punch of Citra, El Dorado, Nelson, and Amarillo hops hits the nose with all the pineapple, plus faint floral notes. That's not a shocker since it pours the color of hazy pineapple juice. On the tongue, expect a veritable smorgasbord of tropical fruit flavors, some peach and slight pine.
No-Li Big Juicy
6.15% ABV, 55 IBU
At 55 IBUs and 6.15 percent ABV, No-Li Brewhouse's Big Juicy is practically sessionable compared to traditional West Coast IPAs. Featuring the nectarous symphony of Citra, El Dorado, Azacca and Belma Hops, Big Juicy is just dripping with citrus and tropical flavors. El Dorado and Citra push the nose to fruity extremes. Belma? Indeed — one of the newest varieties punches up the flavor with sweet orange, nectarous pineapple and rare hints of vine-ripe strawberries. Azacca represent with a tropical storm of spicy mango and juicy tangerine, adding in a touch of piney bitter. No-Li Brewhouse won a silver medal for its Big Juicy IPA at the 2017 Australian International Beer Awards.
Fortside Orange Whip IPA
5.9% ABV, 60 IBU
"We think this IPA predicates juiciness, even though there is no 'juice' in it," states Fortside Brewing Company in its Orange Whip IPA hype. The Vancouver, Washington brewery goes on to explain the juiciness arrives via heaps of El Dorado and Mosaic hops, which gives Orange Whip its orange, tangerine and grapefruit aromas and flavors. Some may classify this foamy, orange-tasting, cloudy IPA as a New England IPA. Fortside would prefer it be called a "Hazy IPA."
Stone Delicious IPA
7.7% ABV, 80 IBU
Stone Brewing's Delicious IPA features Lemondrop and El Dorado hops that showcase vibrant citrus flavors, and is notable for what the Escondido brewers have removed from the brew: much of the gluten. An enzymatic process developed by White Labs (producers of myriad yeast strains used by craft brewers) breaks down the gluten proteins, and the results is a nearly gluten-free beer that avoids the pitfalls (like the off-putting mouthfeel) often seen in gluten-free brews. But the reduced gluten levels are not the defining feature of Delicious IPA. Living up to the name, the IPA demonstrates a terrific volume of complex hop flavors. With a curiously light yet still tongue-coating body, each sip explodes with flavor — lemon zest, lemongrass, Lemon Pledge — before El Dorado adds apricot and a bitter bite across the palate, where it lingers stubbornly but never becomes acrid.
---