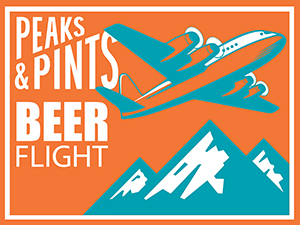 If it were socially acceptable to drink beer in the morning, one with Amarillo hops would be the perfect way to start the day — combined with a balanced breakfast (of course). Amarillo provides a super-citrusy aroma verging on oranges, lively grapefruit flavor (with some pine) and a medium-high bitterness, that is sure to wake the taste buds. Wake up to Amarillo hops and our to-go beer flight, Peaks and Pints Pilot Program: Amarillo On The Fly.
Peaks and Pints Pilot Program: Amarillo On The Fly
Structures Endless Bummer
4.5% ABV
Structures' Endless Bummer pale ale made its debut during Bellingham Beer Week in 2017. It returns with the same Amarillo and Motueka hop bill for light citrus and floral hop flavors, with a light malt base, plus a dry and bright finish.
Skookum Temple of Bloom
5.5% ABV
A collaboration with Varietal Beer, Skookum Brewery's fresh hop pale ale is brewed with a nice portion of wheat and spelt and hopped with an insane amount Carpenter Farms fresh Citra and Loza Farms fresh Amarillo. The hazy pale pours a cloudy straw with nice white head that dissipates slowly. It hits the nose with a pleasant grapefruit, followed by a slightly bitter grapefruit flavor with a lovely mouthfeel.
Block 15 Fresh Catch Amarillo
6.5% ABV
This fresh hopped IPA is brewed with newly harvested Amarillo hops that Block 15 Brewing picked up down the road from Crosby Hop Farm. Mere hours later they were added to their custom "hop back" tank, capturing the fresh hops' aroma oils. The result is a bold, resinous trophy catch bursting with hop notes of ripe orange and tangerine.
Moonraker The Hermit
7% ABV
Moonraker Brewing uses the same process with their OG Yojo hazy IPA but changes up the grain and hop bill. Large amounts of Citra and Amarillo hops are layered over of bed of Golden Promise malt for tons of mango, peach, papaya, and floral hop flavors with a light and sweet graham cracker malt character.
Equilibrium Double Fractal Pentaflake
8% ABV
Double Fractal is Equilibrium Brewing's new series that combines the goodness of their Fractal and Super Fractal series but in a DIPA format. Double Fractal Pentaflake is the first in the double IPA series, combining the brewery's fractal fermentation, simple 2-row base malt bill, and Amarillo, Galaxy, Strata, Sabro, and Citra for aromas of yuzu citrus, lime, pine, coconut, and complex berries, followed by flavors of tangerine, passionfruit, assorted stone fruits, and berry.
Beer Zombies Zombie of Dankness
8% ABV
A self-described beer geek, Chris Jacobs grew up near Chico, California, home to the craft brewing pioneer Sierra Nevada. After moving to Las Vegas in 1995 and overseeing various craft beer programs, he shifted gears to go all in on creating Beer Zombies — his own brand that now encompasses a contract brew, craft beer bottle shops in Las Vegas and Salt Lake City, a future brewery in the works, and an annual beer festival (temporarily put on hold due to COVID-19). The monthly Beer Zombies releases are contract brewed by California-based Mason Ale Works, but in early 2022 Jacobs plans to open his own 15-bbl brewery. His Zombie of Dankness is a West Coast double IPA with Amarillo, Mosaic, Citra, Simcoe, and El Dorado hops for grapefruit zest, tropical fruits, and pine.
Mason Ale Works The Duke
11% ABV
Brewed with Mosaic, Citra, Amarillo, Columbus, Chinook, Centennial, Cascade, Idaho 7, and Simcoe, this Mason Ale Works double dry hopped triple IPA teases the nose with fruit and dank hops before hitting hard with big citrus and tropical fruit notes. The huge hop flavors compliment the big body and dry finish.
LINK: Peaks & Pints cooler inventory
---